Narwhal Yellow Tang fountain pens popped up on my radar towards the end of 2020, and like many things in 2020, they stayed there on the edges of my vision, not being capitalized upon. Though they were in the running as a celebratory pen for purchase when I snagged my new job. When Goldspot reached out and offered me one to review I jumped on it fast! The little bubble wrapped package arrived in my mailbox a week or so later and I wasted no time cutting it open and peeking at the contents. I'd left it up to Goldspot to pick a color, though I was tempted to request a demonstrator. I am very pleased with the Yellow Tang original that arrived.
The packaging is understated but also giftable. While I appreciate a nice gift box, I appreciate being able to recycle the box more. It's simple with modest and cute branding. The card box is lines with thick foam that holds the pen and wrench secure for transportation. I like it.
The yellow and white swirled acrylic is lovely and vibrant. While gold nibs and furniture aren't my favorites I think silver would look odd on a yellow pen and the accents of gold trim look great on this acrylic. I almost regret that I filled it with with black ink, but even boring black ink (for sketching) it looks amazing. The yellow and white pop against the darkness of the ink. The piston moves effortlessly and takes a deep fill of ink. Usually I measure the fill, but I really just wanted to get it filled so I could draw.
In use I find that the pen is a nice size and not too heavy. I don't usually post my caps and though the cap on the Narwhal is technically postable, I found that it made the pen off balanced and overly long. The clip allowed me to attach the pen to my sketchbook or into my pen case for safe keeping. It's sturdy and feels as though it will last.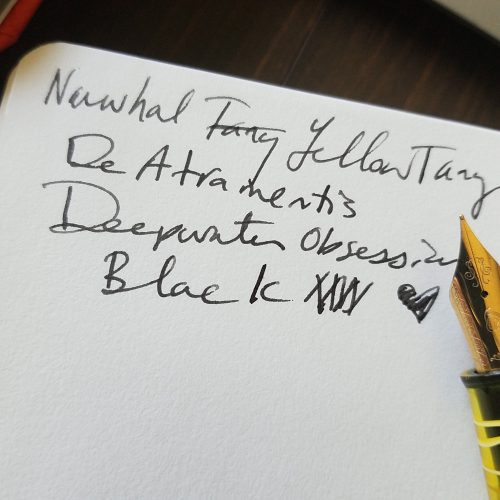 I've used this pen for awhile now and it lays down a generous but not too wet line of ink that works great for writing and sketching. it doesn't seem to dry out when I let it sit while I use my brush pen for a few minutes to blur and blend lines.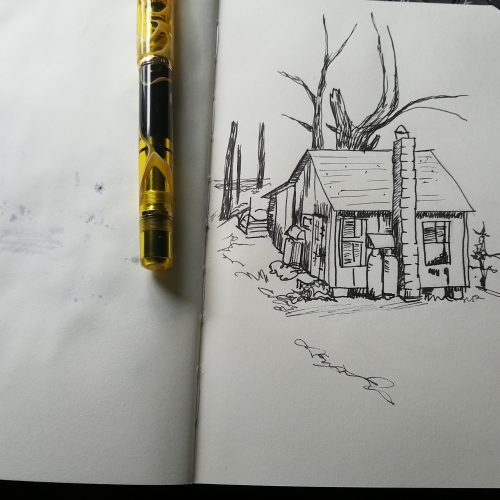 Overall I really like the pen. The nib is great and a nice size and the acrylic pops. Even their special edition acrylics are affordable. At $45 it's not cheap but more along the lines of Moonman or even the TWSBI Eco. I have to say that when it is compared to the Eco, I like the style of the Narwhal better. I like the overall color scheme and the fact that it feels a bit more sleek. It is a pretty traditional fountain pen style, the original in black would fit in anywhere, while the fun colors offer a bit of fun to any writing or sketching experience. When compared to Moonman, Narwhal stands out as their designs are classics and not riffs on another company's designs. They don't feel like a mishmash of ideas hastily tossed together. This pen also feels of higher overall quality. If you are looking for a piston filling pen for sketching, the fine nibbed Narwhal stands out as a solid choice.
Narwhal as a company stands out from the field of less expensive fountain pens in that the company backs up its products and if you head to their website you can see the owners. I like the idea that I'm supporting a small company and even specific people, that stand behind their products. That feels important to me as a consumer and reviewer. *