I gave myself some rules for composition book round up 2021- NO POLY Covers. I struggled with it in the last few round ups. I hate poly covers. With a comp book there is little need for them. The card covers survive in a bag and take a beating, and look great as they get worn. Poly covers are simply unnecessary. Plus I really don't want to add more plastic into the environment. I like the idea that my notebooks can be composted or burnt when I'm gone.
I picked up 3 composition books at Target this year. Many of the same offerings were available- from the awful Jalapeno Paper Company to Yoobi to Unison. I picked up a couple of books I hadn't seen before and a stalwart companion.
Yoobi x Marvel $2.99
Yoobi is our steadfast comp book. Every year they introduce fun covers and they use the same great paper- if you use gel, ballpoint, or pencils. It's not terrible for fountain pens though it does have bleeding issues. The Yoobi paper is stellar for pencils. It's got just the right tooth and smoothness without being slick. It's also got the gold standard of 100 sheets or 200 pages. Despite historically not being great with fountain pens this is a go to comp book for me. I just love the covers. The covers are sturdy, though not as sturdy as in past years. 
This year, my nephew is getting the Spidey Yoobi composition book. I picked out the red foil web on a red background with the white jagged info area. The Yoobi x Marvel has super cute covers with really cute stylized characters from Marvel.
Up & Up $0.69
Generally I've skipped over the pulpy textured Up & Up books because they sport poly covers. Imagine my surprise at finding them with card covers!
The card covers are thin and flexy. You won't be writing out of hand with this book. The cover is subtly printed with narrow lines of a lighter tone than the background. In this case dark gray on dark blue. It's a subtle pattern. It's not a classic. That said, in the lighter colors, this would be a stellar notebook cover for doodles. I only saw black, red, and blue. Though to be fair the composition notebook section was a mess of piles and mashed together books. Customers had already thrashed the place.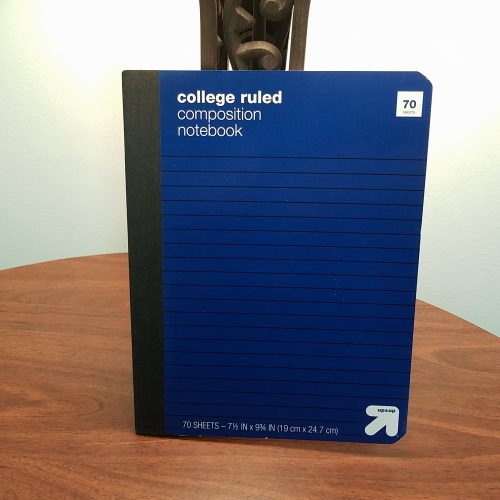 The subtle design is where everything good ends in this book. The paper is thin and slick. Everything slides off it's surface. There's no tooth for pencil. Even my 4b NanoDia lead was pale gray and washed out looking. To get a decent mark from HB pencils I had to jam the point into the page. Ballpoint feels like crap. Gel feels okay but even a Pilot G2 bleeds through. Fountain pen feels okay but the paper soaks ink into it like blotter paper.
It's 69 cents,  but you can only use half the book. Worse yet they only have 70 sheets. For those of you keeping track, that's about a penny a sheet. These are as terrible as their poly covered counterparts, but at least you can compost it. 
Better Together $2.99
These are pricey, but the company partners with Classroom.org to donate money to schools in need. They also identify the designers by name and picture in the back of the book! Awesome. The cover is a bit thin and lacks spine tape, but the spine is carefully scored so it bends and folds better than most comp books!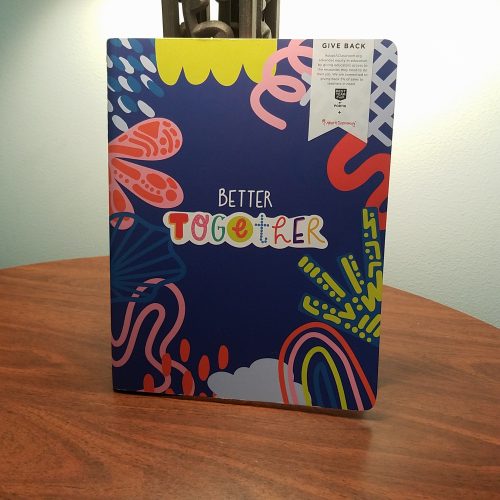 I grabbed this for it's bright colorful cover and THICK but smooth paper. The paper is incredibly thick, surprisingly so. At 148 pages or 70 sheets it's a fat notebook. Especially when you compare it to the other 70 sheet comps out there. It's at least twice as thick as the Up & Up.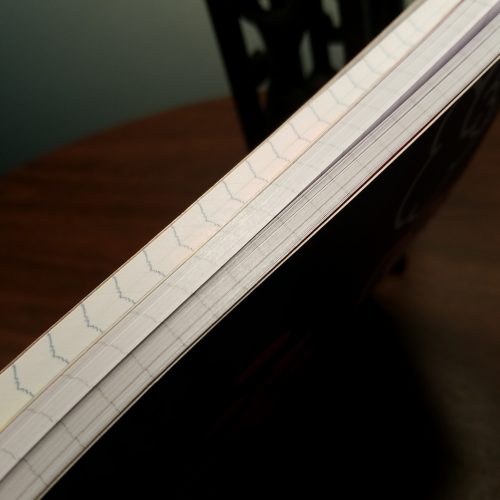 I had low expectations going into this. After all, I've been historically disappointed by designer covered comps. In this case the paper is really nice. There isn't any bleeding or show through and no feathering! It has nice tooth but fountain pens feel good on it. I only have one pen, a TWSBI Eco with a particularly sharp nib, that grabbed the surface. Even my other EF pens felt good. It also fared well with brush pens! No bleed and no show through at all.
For good measure I brought out my Pentel Color brush- a fat inky brush type pen that lays down an inch wide wet swath of ink. No problem. I'm not suggesting you go ahead and buy this for watercolor work, but if you decide to hit it up with some wet markers, it might not be awful.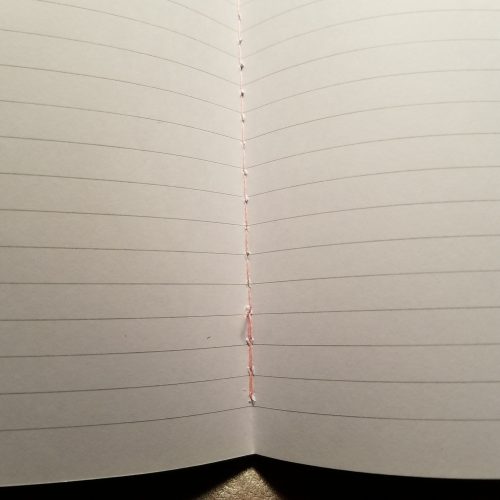 The surface is also AMAZING for pencil, up there with Yoobi notebooks. It's got an exceptional tooth that makes even a generic HB look nice and dark but isn't like writing on rough sandpaper. 
To make this beauty even better, the stitching is exceptional. It's tight and back tacked for exceptional sturdiness. The thread is color coordinated. In this case it's neon PINK.
Overall this is a fantastic choice if you want something bright and colorful that accepts fountain pens, brush pens, pencils, and seemingly everything I tossed at it. The only downside is that the cover is thin and it lacks spine tape, which I honestly think is a necessary feature of comp books. At $2.99 it's pretty pricey, especially when compared to other brands that sell for far less. That said, getting a comp book with thick paper that handles fountain pens and brush pens well is a bit surprising.
As far as winners at Target, the unison, which isn't reviewed here, but was reviewed here, is always a solid choice. They tend to have them very cheap later in the BTSS season and at clearance time you can score a handful. The Yoobi is always a solid choice if you stick to ballpoint and pencil. As far as everything else? Well, the Better Together is solid, plus they have fun colorful covers and colored stitching. 
Limiting the comp round up to only card covers has made the selection pretty difficult. I'm not sure what the other places will have to offer.