I've been making recycled coffee bag wallets for years. I used them extensively throughout grad school and sold them. I haven't had time to make them recently.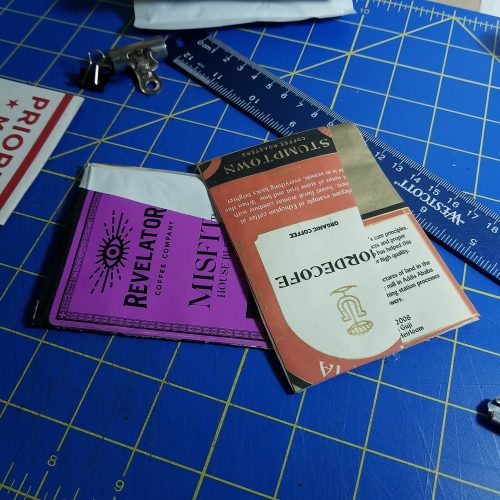 Many of the coffee companies I've been getting coffee from have changed the bags they use- they've gone from the tube style to a style that has 4 sealed edges or are short and squat. I welcome that they use less plastic but the lower amount of plastic means I don't get to make the bifold bill fold wallet, since there just isn't enough bag there to make one.
I started looking at some of the wallets I like online, and my Baronfig card sleeve. I've always wanted a slim wallet that holds very few cards and takes up as little real estate in my pocket as possible. But I've always wanted something that holds cash as well. The Baronfig sleeve doesn't hold cash well.
I decided to make something a bit larger all around than my Baronfig sleeve, not to hold more card, but to hold cash.
I attempted to heat seal the pieces together but that didn't work well at all, so I'll try stitching them together. That's for next time.