Travel mugs. We all use them and no one really talks about them. Everyone has one that they think is the BEST ever, and they aren't shy about telling you why theirs is better than yours. We've all been disappointed by one in the past. Well, at least in my circle of friends. I've gone through a slew of travel mugs over the years. Most of them I have destroyed through dropping, dishwasher, or some other mishap. The big problems that I've found with mugs is that they leak either through the sippy mouthpiece or from around the lid. Either way it's shirt disaster.
I'm always on a search for a good travel mug, and I've accumulated a lot of them. Save 3 of them, they are in my cupboard abandoned. Occasionally, one gets taken to work and abandoned, mostly they sit and collect dust. I really ought to toss them in a bag and take them to the thrift store.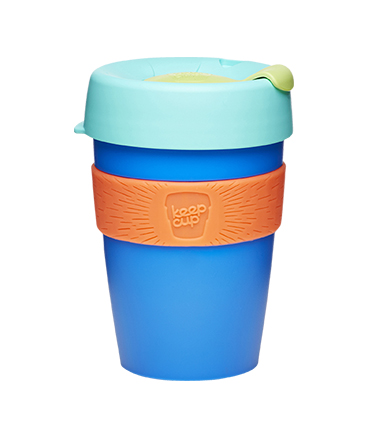 That brings me to today's review. Keep Cups. I realize I'm slow on this product, they have been around for a few years but I was finally able to get one locally.
Keep Cups are plastic travel mugs with a lot of silicone leak-proofing offered in many color combinations. When ordered online you can get any color combination you want, which is nice. When I bought mine in person I had to make a choice between a few color combinations that I really didn't like all that much. In the end I chose a blue cup, orange band, light teal top, with a green stopper. It is a bright, eye searing color combination, one I actually like quite a lot.* Everywhere I've used this cup I've gotten compliments on it, and people ask me where they can get one. In disclosure, mine was purchased with my own cash, at Equal Exchange on Causeway Street near North Station in Boston.
Mine is a medium, which means it will hold 12 fluid ounces of my favorite beverages. It has a line in it so that it can be filled with only 8 ounces if one so desires. The plastic is sturdy and doesn't break when dropped. Yes, I know this for fact. The grippy textured surface of the plastic reminds me of old Tupperware cups, in a good way. I like it. It's tactile and nice. It's easy to keep clean too, it washes by hand or in the top shelf of the dishwasher with ease. All the parts and pieces disassemble to a thorough cleaning. I like this very much. One of the things that I hate with a travel mug is that sour stale coffee taste you get when old rancid coffee is held in the mug since the last time you used it. Gross, the Keep Cup's easily separated parts solve this issue.
The lid of the Keep Cup is easily sipped through, and allows a decent amount of coffee through, large gulps and small sips are possible. The vent is hidden and seals as you turn the stopper. It doesn't leak so I didn't get a nose full of coffee as I walk and sip, or sat and sipped.
As much as the Keep Cup solves many of my travel mug problems- unbreakable, leak-proof, right size, and is lightweight, it has two main issues. The first is that it is made out of plastic. I really hate drinking out of plastic. HATE it. Plastic is gross, leaves a taste, and just blech. I feel juvenile drinking out of a mug that looks something like a sippy cup designed for my 3 year old nephew. If this thing was made out of stainless steel, oh baby, it would solve so many problems, not to mention, dead sexy. They do offer a glass version, but that defeats the breakable beauty of these cups. The second issue is that it is not insulated. A fresh hot cup of coffee quickly heats the body of the cup to scorching and it's all cold from there. These cups quickly lose their heat. The cup's warmth doesn't last, and soon enough the brew is chilly.
Overall, I really like the Keep Cup. It's small and light enough that I can toss it into my bag and not notice the additional weight. I don't have to worry about dropping and breaking it.** It's bright, and many of my friends (and a few Baristas) have complimented me on it. A stainless steel double wall version would still be lightweight, unbreakable, and insulated. It would be the perfect travel mug.