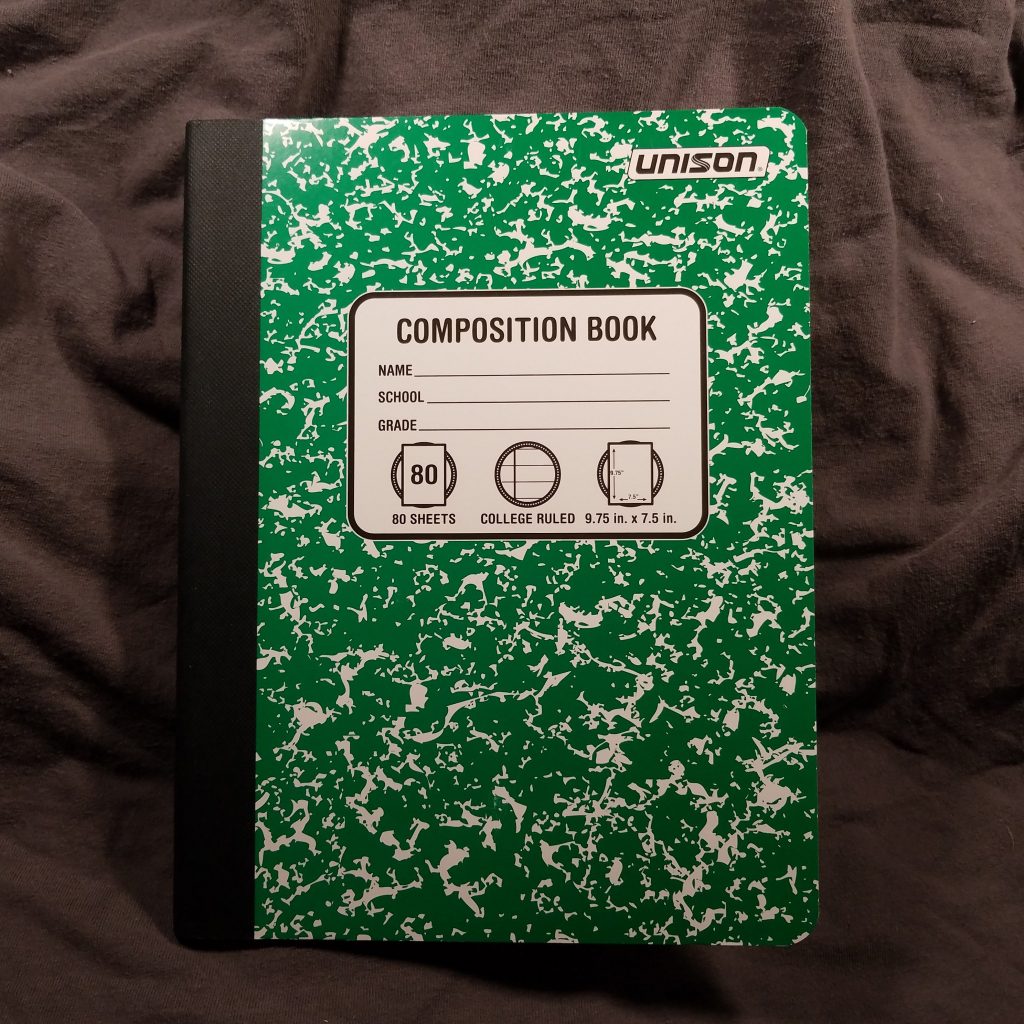 Target had a lot of options for comp books this season. I left the store with 9. Some are old favorites and some are new brands. I'm dividing this round up into several parts because, well 9 books are a lot to write about. I will also include here that my "local" Target was a shit show, which is to be expected in some part due to the Covidalypse, but also it was hard to find things and despite the state requirements to have a scanner every so many feet in the store, it took me forever to find one to scan each item for prices. Also whoever had set up the display had mixed all the wide and college ruled books… together in the same bins, so I had to search and search for college rule and in some cases never found any.
I decided to start this out with the regular Target offerings- Yoobi, Up+Up and Unison. These seem to be offered at my local Target every year, but not year round.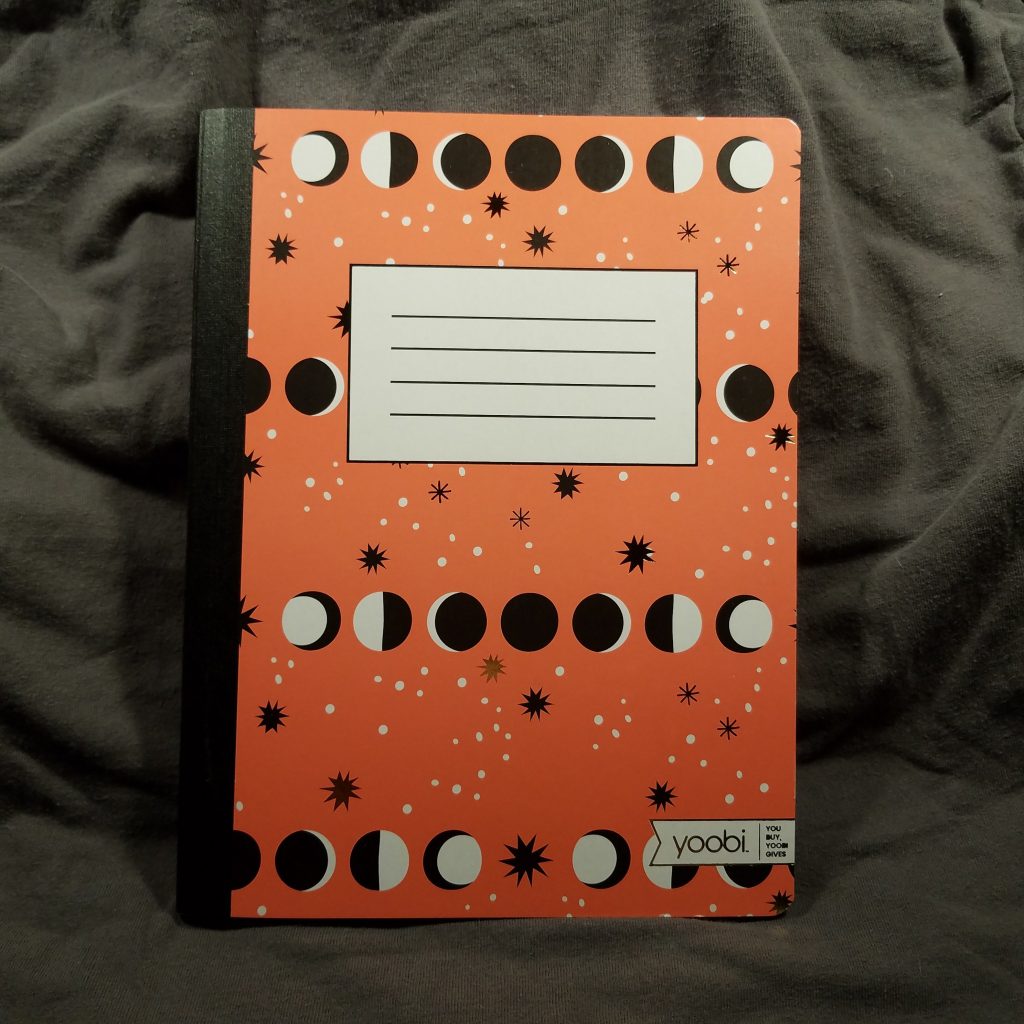 Let's start out with Yoobi. The paper inside is smooth but not slick. It has plenty of tooth. IN fact this might be a perfect paper for pencil. I love pencil on this toothy yet smooth paper. My HB pencils feel good and leave a dark line. Ballpoint and gel ink feels good and performs well enough on this paper. Roller and any liquid ink, well it's not pretty. The line tends to spread and feather. Fountain pens exhibit show through and some bleed through. It's not great.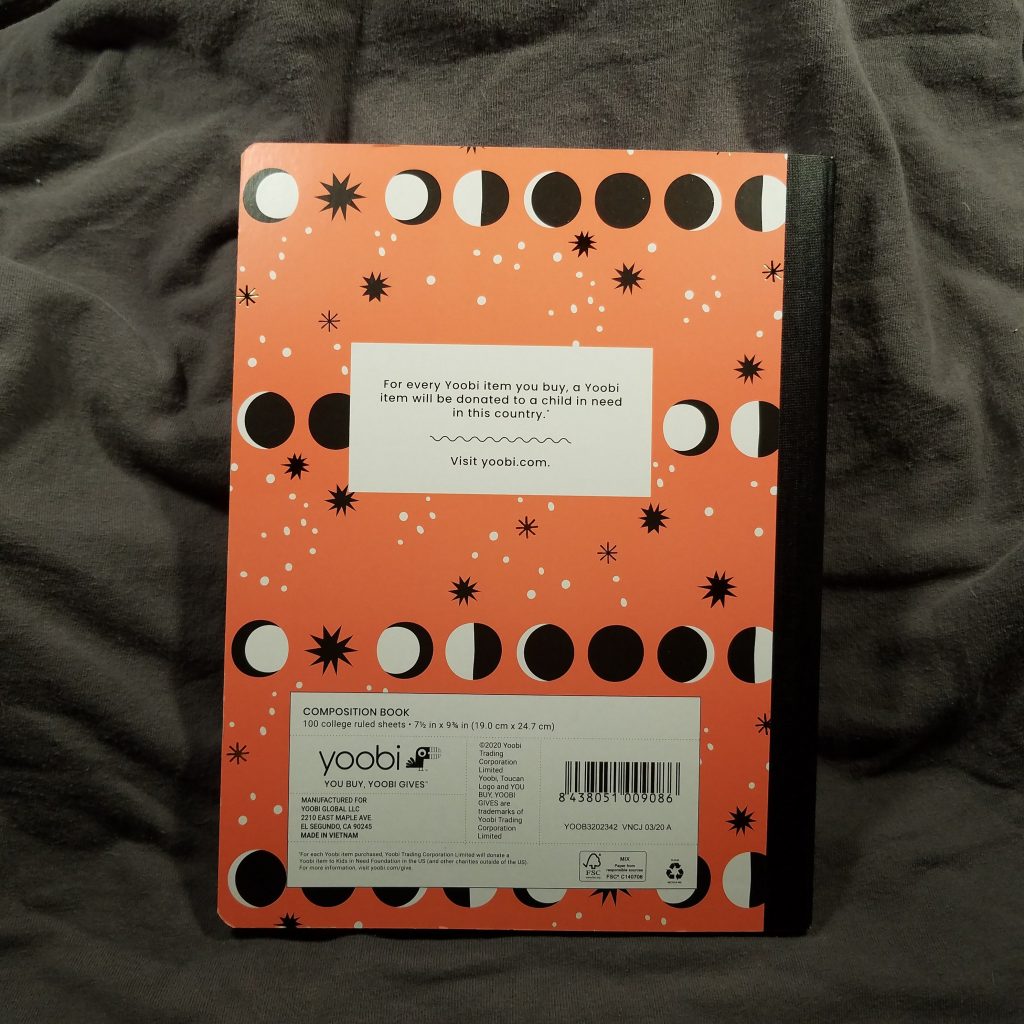 The stitching is tight and sturdy. The spine tape is textured and a decent width. The covers are what make Yoobi books special. Every year they come out with new designs and wow are they cute. This year's designs span from cute and fun to funky. I picked up a design featuring gold stars and phases of the moon. The moons are black and white on a lovely salmon background. The card covers are thick and stiff though not as thick as previous versions.
The Yoobi books are $2.50 each and have 100 pages. This is their regular price and I'm not sure they ever go on sale, though I find them in the clearance section often. WHen I find them in the clearance section I snap them up, because I love the covers. Since I write with pencil often these work pretty well for my writing needs, but if you are a fountain pen user these are going to be a hard pass, the paper is just too feathery and bleeding for fountain pens.
Last year's Target winner was Unison. This year they sport red, blue, yellow, green and black marbled covers. They have 80 sheets and are available in college and wide (YUCK) ruling. The covers are made of thin but stiff card. The taped spine is generously wide and nicely textured. The stitching is tight and well done in all the books I looked at. They are made in Vietnam. These are priced at 50 cents. THe covers are available in a wide range of shades- from your usual red, yellow, and blue with green and neon colors.
The paper inside is smooth to the touch of my hands but has enough tooth for pencil to do well. All my pencils felt good on the page. My gel and liquid ink pens all felt great. Fountain pens did quite well on this paper. I noticed zero bleed or soak through with my wettest pens. Sheen showed on the page.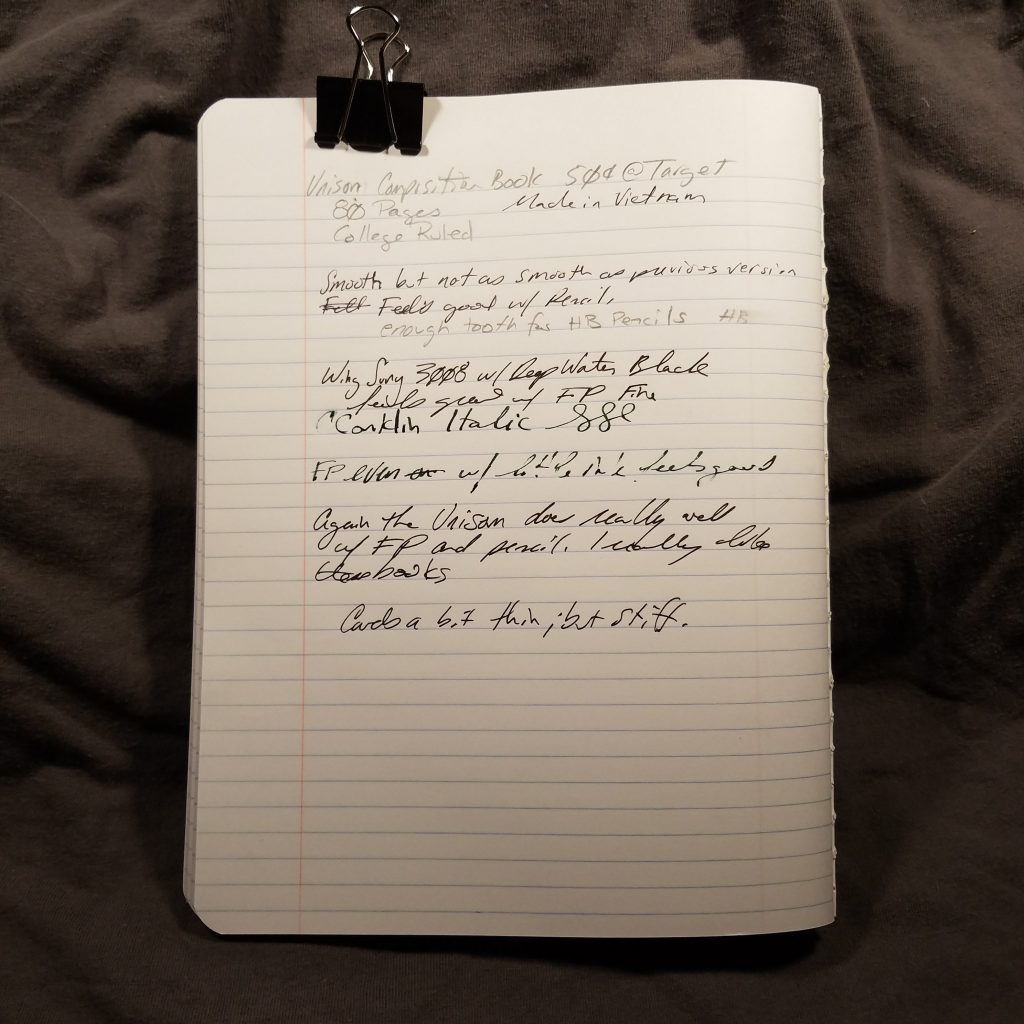 This is still a great choice, no matter what you write with this paper performs well. There are a few areas of the marbled design where it's clear that the design didn't blend the edges of the pattern well, but overall, it's marbled.
Next up we have the first of the Up+Up books- the Poly Covered. At 99 cents it's expensive (IMO) for what you get. The poly cover is thin and floppy but scored for easy folding of the cover. The stitching is tight and sturdy. The taped spie is appropriately sized and has a pleasing fabric texture.
Inside you get only 70 pages of smooth paper. It is drastically different from the past pack of Up+Up comp books I purchased. This paper is downright… NICE! It isn't great for pencil, but it's not bad either. It lacks the level of toothiness I like but it's not awful either. With a darker softer pencil this paper is decent. Where it shines is with gel ink. It feels perfect with a gel pen. It also feels good with a fountain pen. Though it does have some show through and spots of bleed where the pen sits for a moment too long. Overall this is a solid contender for decent.
Finally, for this section of the review we have the Up+Up card covered book. At 69 cents it's not over priced, but really should be at 50 cents with the rest of the books, especially considering it has only 70 pages. These are made in Vietnam.
The cover is as basic as basic can be. Rather than the usual marbled covers we get one color with white labeling and lines. It's available in red, yellow, blue, and green. I didn't see any black covers. Odd. Why not the rest of the secondary colors? I like orange and purple. But this section of the display was a shit show of mess. The stitching is tight and even. The taped spine is wide enough and nicely textured.
The paper is great. Mine worked better than the poly covered version of this same book. It was smooth yet toothy. Pencils felt great and left a nice dark line while fountain pens felt GREAT. The smooth paper is key here. The nibs glide over the surface. Also the wet inks stayed put and didn't spread, feather or bleed. It doesn't get much better than this.
In this section of the round up the Up+Up card covered and the Unison are in a tie. I might like how the Up+Up card covered performed a bit more, but the Unison is priced better and has 80 pages.