This is the last Target round up, I'll be tackling the Walmart offerings in my next few posts. These are the two new options available from Target. One is good, one is trash.
Let's start with the positive review. I've read a lot about Top Flight composition notebooks being great. I've had a variety of experiences, most of them of the bleeding fountain pen variety. When I saw this Fashion Card covered Top Flight I had to buy it. It boasts 80 pages and a fun ecological message about bees on the cover. It cost $2.50. I could only find wide ruled at my local Target. (Why Target WHYYYYYYY!)
The cover is made of nice thick and stiff card. It is not floppy. The design work looks a lot like someone drew some lines and then slapped some stickers onto the page and then snapped a photo of it. It's not bad but not good either. The spine tape feels a bit narrow and is mostly smooth. I don't know why I prefer a nice textured tape on the spine but when the tapes are smooth, I don't like it. The stitching is wide and pretty tight, though I did have to melt the thread because it was frayed and loose at the bottom edge.
The paper is great. Smooth but toothy. It felt great with all my pens. Fountain pens felt really nice and didn't bleed. There is some show through but that is expected IMO for paper this thin. I really liked it with pencil too. Despite it being smooth it has excellent tooth, so pencils glide on the surface but also deposit plenty of graphite for a clean dark line.
At $2.50 this is not a cheap book. It's not expensive either. But when there are cheaper options that work very well, why bother with this, unless you like the fashion covers?
Finally, at the end of the Target offerings, we have the shoddy Jalapeno Paper Company composition notebook. These are made by Michael Roger, Inc; the same company behind Decomposition notebooks, but at a lower price. A little googling show that these are made specifically for Target. These are priced at $2.99 for 80 pages. It boasts being recycled and being 100% post consumer waste and being printed with soy inks. All of this sounds good.
The cover design is what drew me in. There were a few really cute designs- and I struggled to decide between avocados and octopi. I ended up with octopi. The design has that Michael Roger feel. I posted a pic of these on insta and Johnny of Pencil Revolution and Erasable, immediately noticed the design feel of Decomposition notebooks. It's not a rip off, it's the same designer.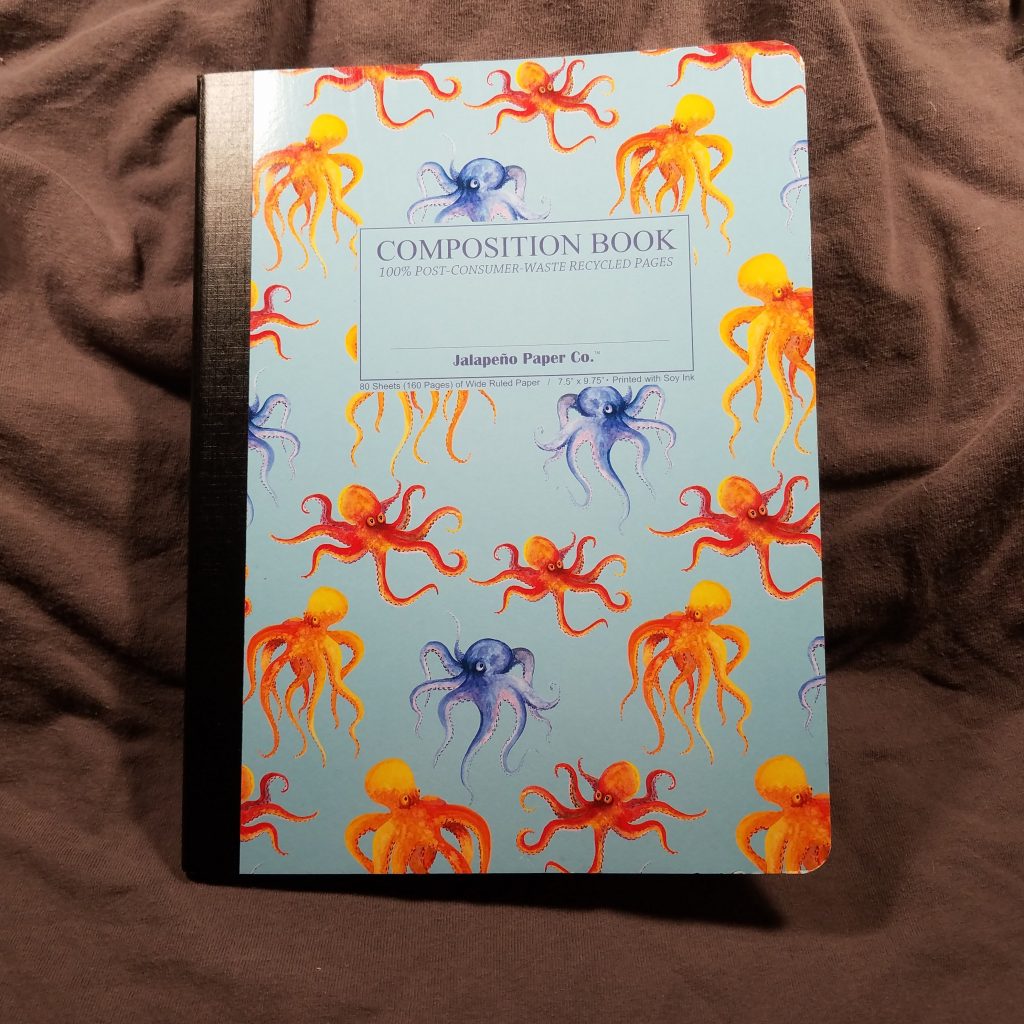 And frankly even with that, you shouldn't buy this notebook.
The wide ruled paper is utter trash. It's got this slick glossy newsprint feel. It's pulpy and soft while also being too crisp. It feels awful. I touched it in store and almost put it back. It just feels weird under hand. Then I put a variety of writing tools to it and even more yuck. Fountain pens immediately feathered and bled through. Writing on TP would be more enjoyable. Pencils slide across the surface there is an utter lack of toothiness. Even normally dark pencils look light and feel hard on this surface. Gel ink is the only thing that feel okay here.
I cannot tell you enough to not buy this book. Get the Top Flight, hell get the We Mean Green for a buck more, it'll serve you more.
Overall if we're looking at value for the dollar, the best bet is the Up+Up card covered notebook. The various Five Star offerings are also quite nice but not the best value.