I'm not sure if Pencils.com has historically had custom pencils available, but for a long time they had Blackwings available with their Pearl (balanced) core available in black or white with a custom imprint. Not long ago they announced a full range of custom pencils in a range of prices. They range from round screen printed to foil stamped on a range of pencils to stamped on natural raw cedar. The standard custom hex is $80 for 200 or $100 for 400 pencils, which is quite a decent bulk discount. Discounts show up at check out. I'm told there is another bulk discount at 1000.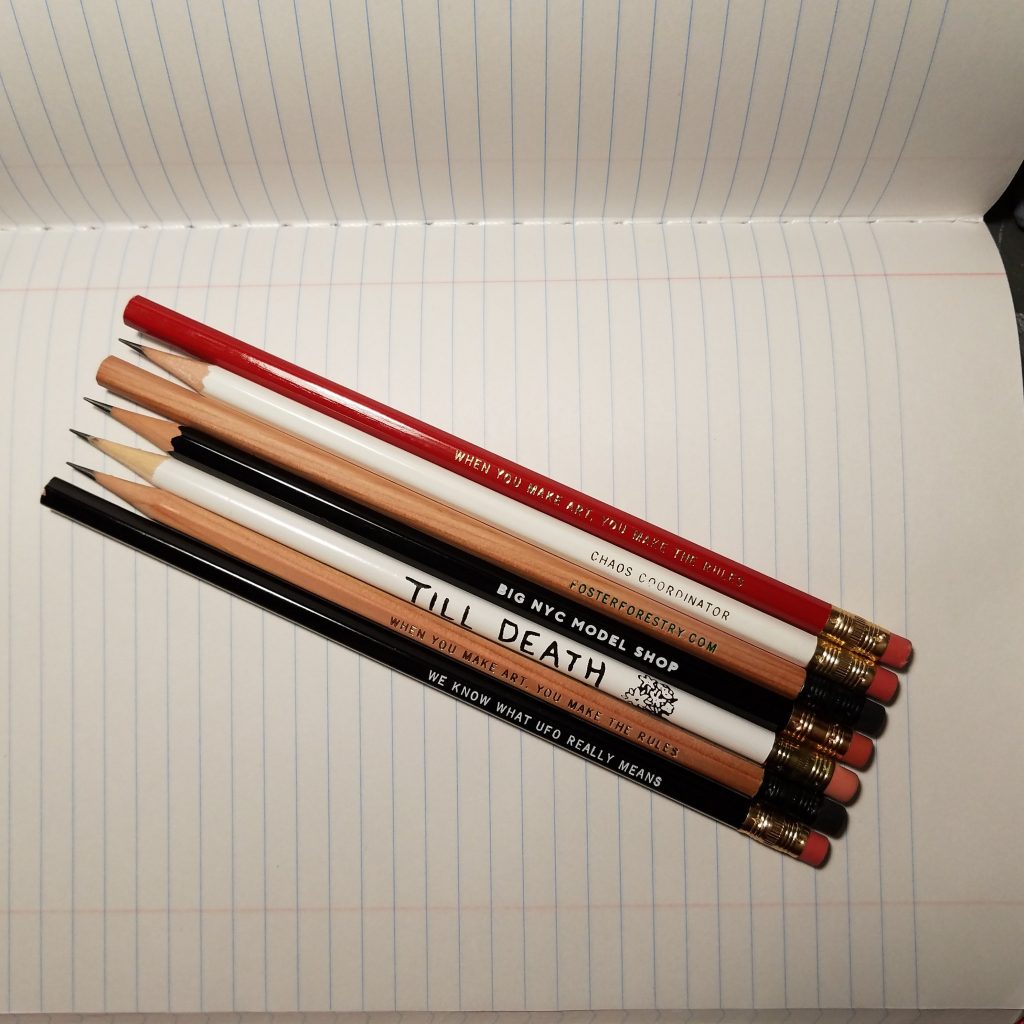 This is a good time for me to be reviewing pencils. I'm working on a few different novels and recording the ideas in composition notebooks but also writing my first drafts with pencils and pens in them as well. I've churned through some of my pencil nubbins and put a work out on the samples Pencils.com sent me for review. I've worn each one down an inch or so in the weeks since delivery. Suffice it to say, that's a lot of writing.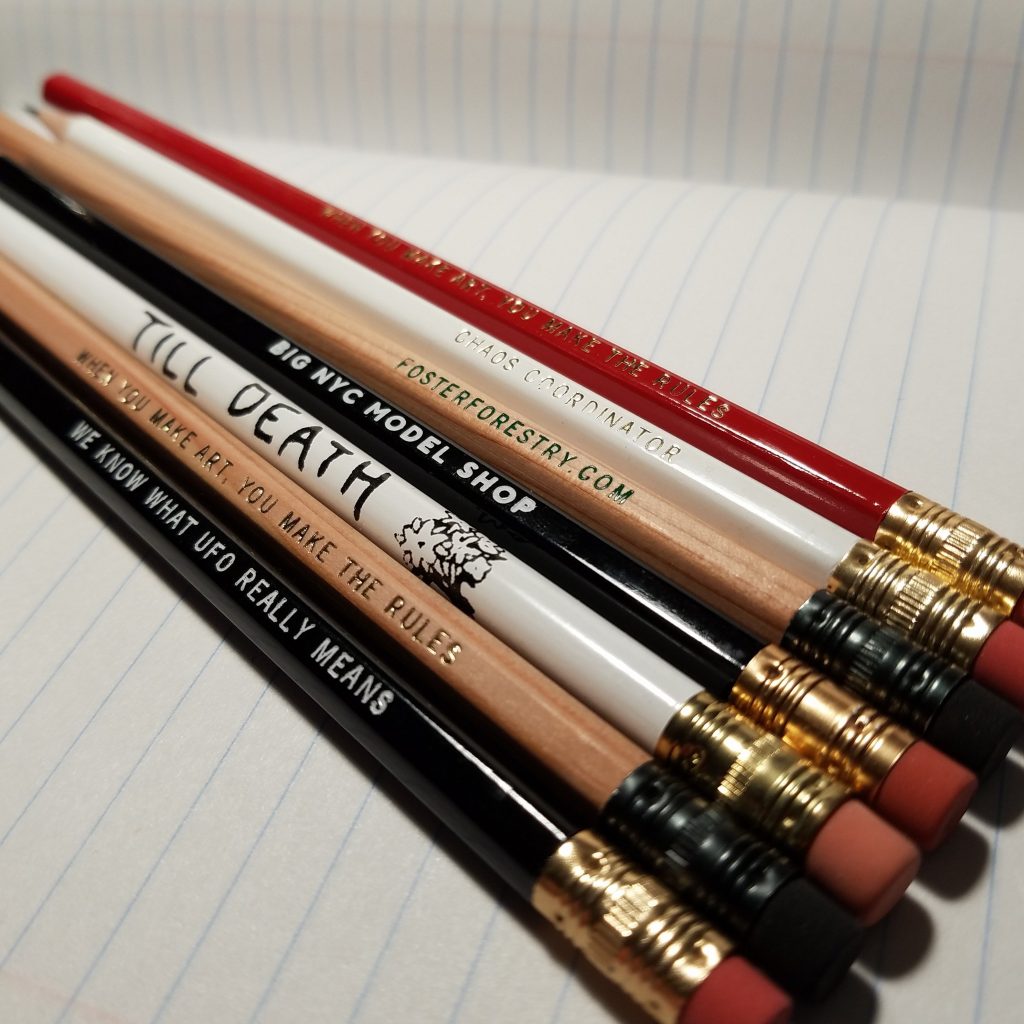 The least expensive is the round screen printed pencil. You get 432 pencils for just over $95. That's 22 cents per pencil. This option has the largest amount of colors and fonts and lines of text, including a mascot option*. You can really customize your message. The sample version of this pencil was not cedar but linden/basswood and sharpened up well with a smooth HB core.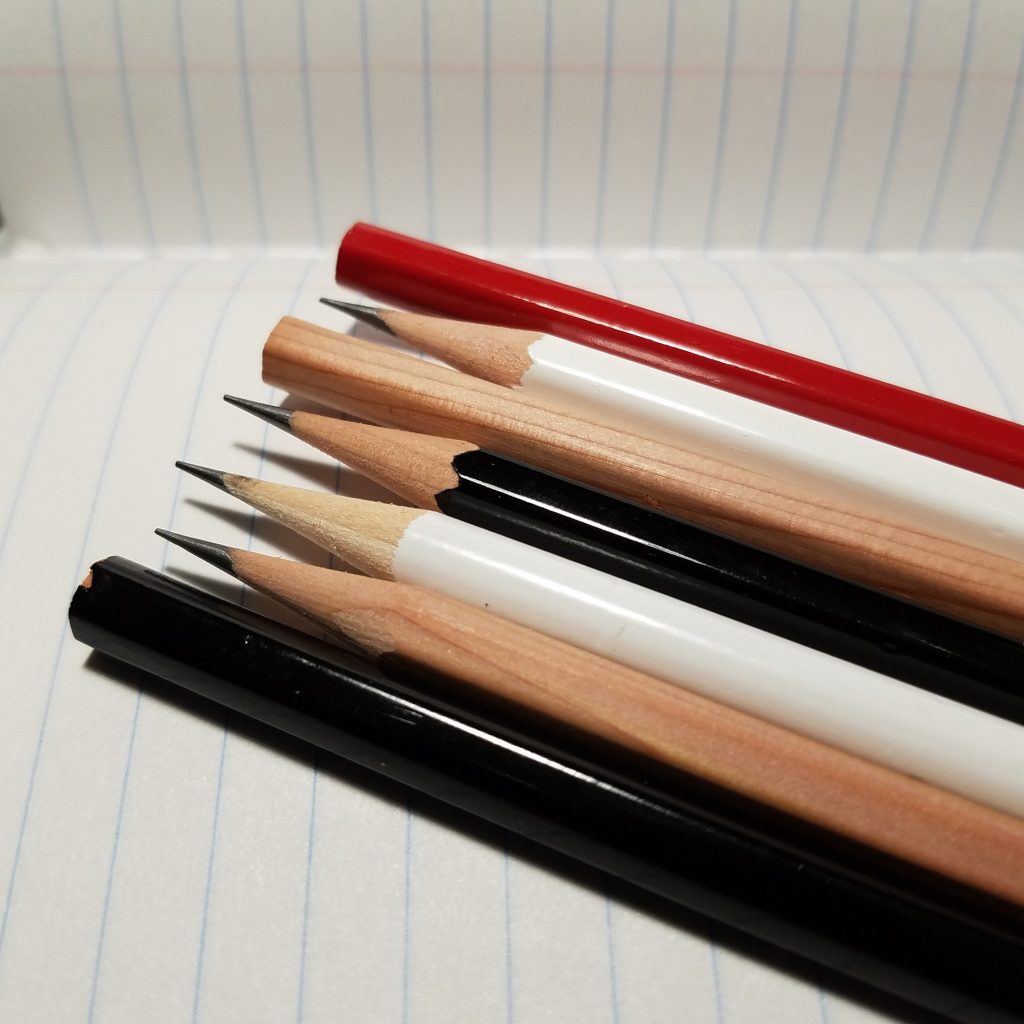 The custom hex heading has 3 options. I'll write about each.
The standard custom hex costs $80 for 200 pencils or 40 cents per pencil. It is available in 10 colors, with 7 color options for the imprint; this includes gold and silver. You get one line for text.The ferrule is cold with a pink eraser. The wood is cedar. The pencil is made in Thailand, finished in the US.
This is a solid pencil choice. The cedar smells great and sharpens well. The core is dark, mostly smooth with some grip on the page. It holds a point well on even the toothiest of pages and sharpens nicely without crumbling- in all of my sharpeners from the finicky Pollux to the Apsara long point to the brass bullet to my Dahle 133 to my Classroom Friendly. The lacquer while not thick is applied very well and nicely glossy. The imprints look good too. While I suspect I was sent rejects that were slightly off or not perfectly imprinted they still looked great. I particularly like the white on black imprint. I was sent a white pencil with a gold "Chaos Coordinator" imprint and it is great.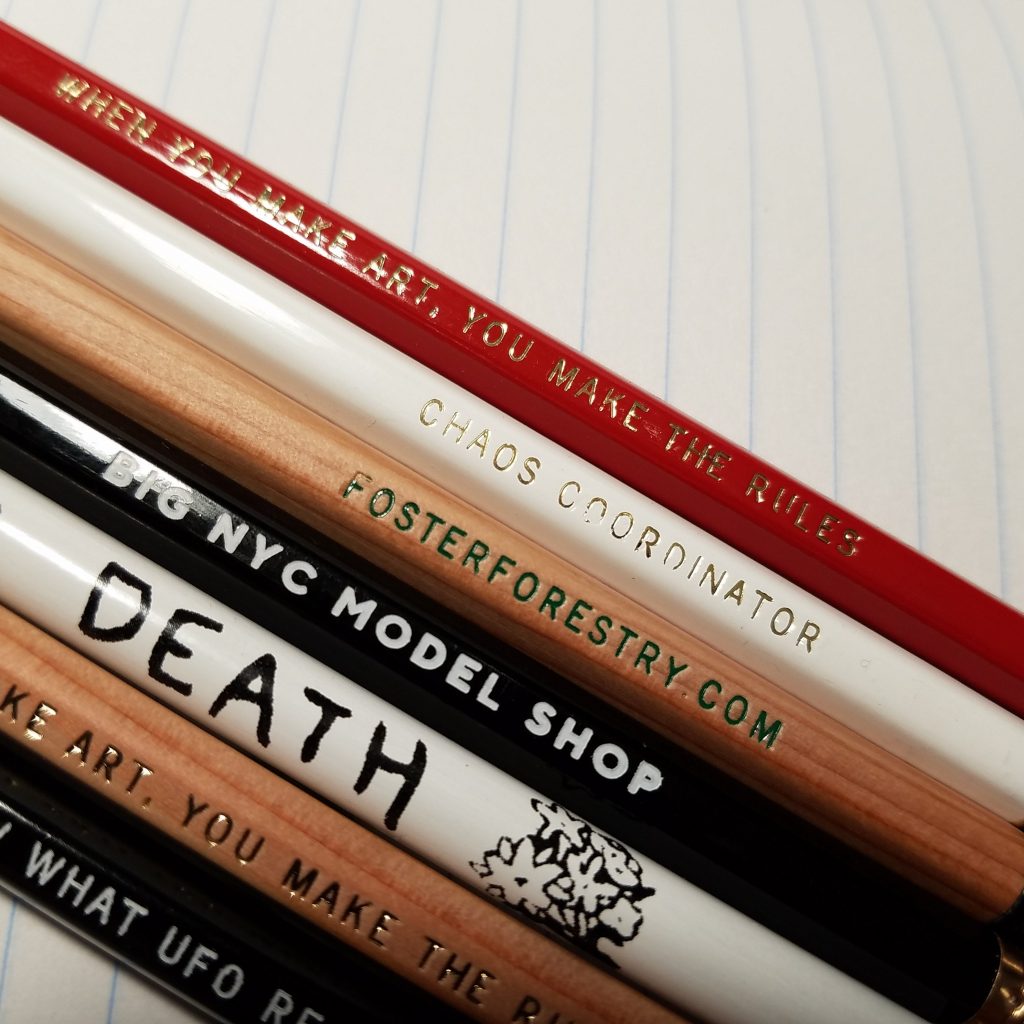 The raw cedar custom hex costs $110 for 200 pencils or 55 cents per pencil.The pencil is made in Thailand, finished in the US. This pencil is almost identical to the standard custom hex pencil, but with the added benefit of being raw cedar and with a black ferrule and eraser. The imprint is available in the same 7 colors as the above. I have one with a gold imprint and another with a green imprint and I have to say that I really like the color green on raw cedar. The wood is smooth and feels great in my hand. I suspect the core of this pencil and the standard are exactly the same.
The premium custom hex costs $250 for 200 pencils or $1.25 per pencil. It is available in black and white with 7 imprint options. The ferrules are slightly different than the standard- a smooth band instead of ridges, but still gold with a pink eraser. The lacquer is noticeably thicker and glossy when compared to the standard hex options. The cedar and core sharpen with all the above mentioned sharpeners perfectly. The pencil is made in Japan.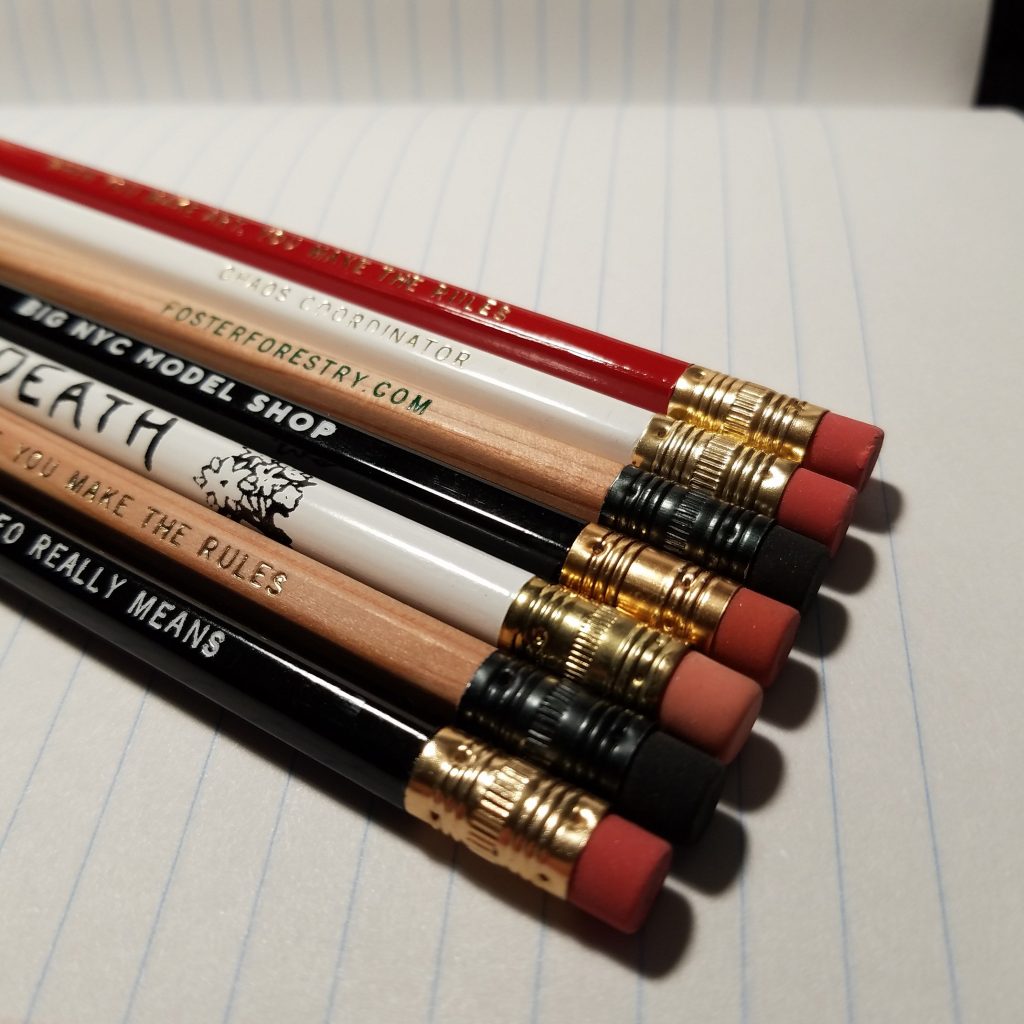 This pencil is amazing. The core feels like a Palomino HB or Camel HB. That smooth graphite that glides over a page is evident here. There is a marked difference in the graphite between this pencil and the standard in core alone. Combined with the difference in paint and just wow. The camera doesn't pick up the difference in ferrule colors but the premium is slightly warmer in it's gold shade.
Some good with the bad here. The round pencils, while the best priced and well, round, were made with the worst core and the finish is less than stellar. The eraser is great and it holds a point well, but it's very hard and light. It's just not a great pencil. But the options of more text and little icons is awesome.
I'm not gonna lie, you all know how I love a raw cedar pencil and of these options, the raw cedar found its way into my hand more often than any other in this package. The blue black ferrule and black eraser are great and that smooth raw wood is fragrant and looks great. It's grippy in a way that a matte finish can't match. The core is good too, it's not as great as the premium pencil but it's darn good. It has just enough grip on the page that you know it's there, it doesn't glide or skate over a page but it feels good on all of the various composition notebooks I've tested it on. That is across 5 brands with a variety of smoothness and tooth.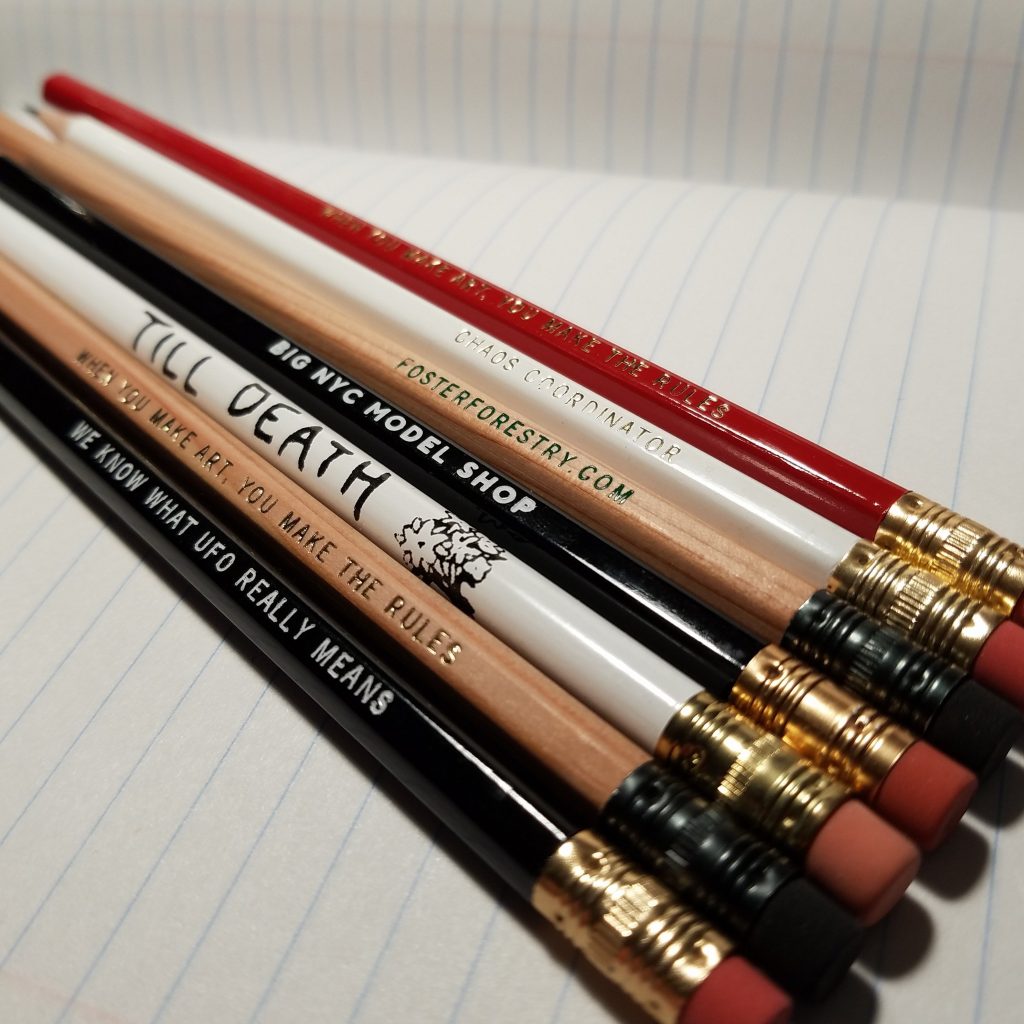 Obviously the premium is the best of the bunch. It's a great pencil that feels like I'm using a Palomino HB, which is a favorite of mine.
From the standard to the raw to the premium, you can't go wrong with any of these options. Even the round isn't bad, it's just not the same quality as the other options. Head over to Pencils.com to get your own custom pencils.