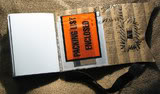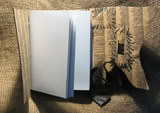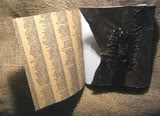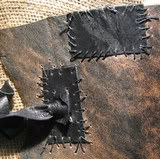 I made this journal with a friend of mine in mind. I may give it to him but I'm not sure I want to part with it just yet.
I think it fits his personality to a T and that he will enjoy it.
To the good stuff!
It's a pocket sized travel style journal. It's 5.5 by 4.25 inches in size with a wrap around envelope style cover. I left the flap edge raw. I backed it with my favorite paper- the backwards-raised printed phonebook paper in gray and brown. The spine is reinforced with tyvek. I used a simple sewing pattern to not compete with the patches. I had some scraps of black leather pre-backed with adhesive lying around. I heated them and attached them to the front cover flap. I then stitched around the patches to really hold them down and to add a little oomph. I used one patch to cover up an edge of the leather that was left from cutting too close to the edge of the hide. The other patch is used to reinforce the thong. In the back of the journal I attached a "packing list enclosed" pouch to create a pocket for storage.
It's very unique journal made specifically with someone in mind. I'm convinced my friends get the best journals from me.