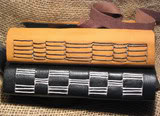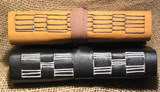 I Just finished these 2 journals, that makes 4 for today, I'm pretty happy with my productivity, I've don'e well. if i really buckled down I could have made 6 today. Instead I took a nap. It's my sort of day off. ..
Though I love my time in the studio I do need time off to relax and refresh myself from the rigors of the day job as well as from the journals.
Anyway, the two journals are both alternating long stitch sewn to slots on the spine, they made great patterns and I've found the right length for the slots for 10 or 9 signatures. i'm in love with the black leather and plan on ordering another hide soon. I'm also planing on making a journal like this only larger- 6×9 inches. No lines though, that's only going to be for special orders. Well, that and the printer was making some funky noises when I printed out my sales reports.
these will go up on ebay at some point, I think, they may be nice for the stock journal page for my website.
I plan on working on some ideas for my custom order page. I realise I need some helpful guidelines for people seeking a custom journal, price range etc. . . So i'm going to think about it and write it all down.