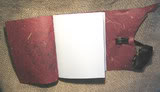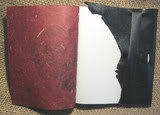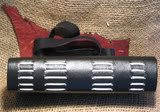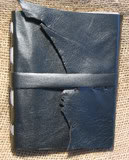 I made this 4.25″ wide by 5.5″ high journal a little earlier today. It's got a whole 200 pages of fox river warm gray paper sewn in a long stitch pattern, through holes rather than my usual eBay line in slots. Holes make the cover production take about 15 minutes extra- each hole is individually cut, unlike slots, which hold the same number of threads as the holes but I only have to cut a few of those versus 20 to 40 holes, fast and quicker. The sewing time takes the same length of time as if I cut it into slots.
this journal is here.
I used an unprinted washi for the inside, I've had a lot of requests for paper without patterns. Sadly, I think the patterns are fun, more fun I think if you are picking out your own journal rather than bidding on eBay. Many people don't want the patterns, which are half the fun of making the books. Ah well, I'll make some without patterns and I'll look for great unpatterned paper. I've never thought of the inner paper as a distraction from the book, always as a attractive element.
Any thoughts on this?