I love making custom journals for people. It gets me a chance to experiment within guidelines. I think that this sort of thing was never something covered in my college art courses. I learned about stiring my creativity and geting customers but never about filling orders and how to learn what people really want. I've learned that through the time I've been making books and throguh working at the store. I think it's skill that I've learned.
I've been working on an order for 4 journals. I've beengiven permission to do whatever I want withteh bindings and been told "You are the artist, let my creative vision go wild." Needless to say I'm pretty excited about that. So I'm going to show a few pictures here of the 2 journal I"ve finished in this order. the first is a golden deer skin color. With some gray areas in the skin, also some scars in the skin. Ilove skins that are naturally distressed and show the life of the animal. It's probably one of the reason I'm drawn towards deer and sheep hides. Not only are they super soft but they are themost interesting hides I've ever bought. Goats nice but somewhat boring. Cowhide is boring. Anyway, without any more digression on my part!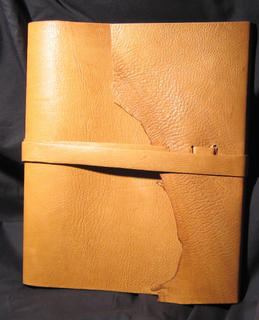 It's 9×11 inch journal with 48 pages of 90lb strathmore cream drawing paper. It's backed with canson paper in tobacco. the spine features a simple sewing of hand dyed black unbleached Irish linen thread sewn through station reinforced with antiqued copper eyelets. The photos of the spine didn't come out well but here's the best:


Finally the gratitous cover open shot: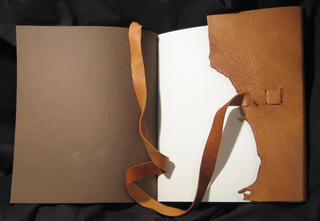 The second journal is what the guy calls a "franken"journal. I think it fits. I made one of these for my friend B and it was inspired by the punk rock patches he wears on his jeans and jackets. I like the name and ithink it will stick: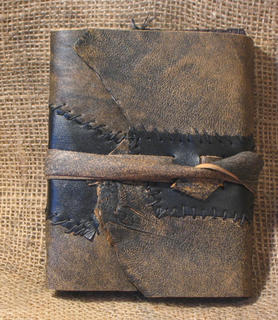 It's a standard journal cover with patches glued to the outside and then handstitched to the cover with linen thread. To sew it all the holes must be pre punched- it's hard to push a needle with thread through leather unless you've pre-punched the holes.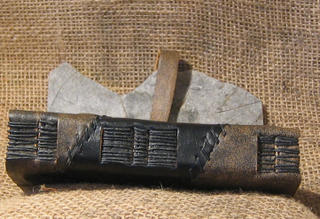 Here's a shot of the whole cover:

Those are the 2 most recent books I've made. Hope you like