I've been binding all day and while i haven't met my lofty goal of making 10 journals idid finish 5 large journals and one small. I still ahvetime to make a few more if I try. I did make it to the post office for shipping a lot of journals to Canada. I also made it to both Barnes and Noble to check out the journals and farm for ideas and to Michaels for cardstock.
While at michaels I realized that I need to find a better source for paper. paying the amount that i'm paying for cardstock is outrageous. Especially whenI know I could call a printing company and get the paper at half the price. ARGH!!!!!!!!!!!
So The journals that I worked on today are all variations on long stitch. Basically it's sew on 2 signatures and then head back as if I were going to start a figure 8 bu angle back into the last signature. I ended up with some very elegant spines. Expect a whole slew more variation on this. i'm pretty excited to try this out with stations and not just slots.
Enough talk here you go: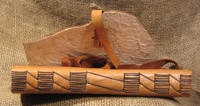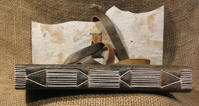 The golden colroed journal is going up on ebay.