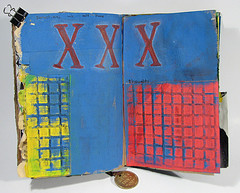 XXX thoughts
Originally uploaded by lessherger
I really enjoyed making this spread in my journal. I had bought some new materials and wanted to try them out. I used making memories paints for the blue and red. I'm not overly fond of the paint. It's a little too thin and doesn't cover that well. It is the consistency of craft acrylic but much more expensive. The colors don't play well together either, making mud, and the colors ae specific rather than letting me mix the color I need/want. Ilike a lot of their other supplies and tools, just not their paint.
The other thing that I tried out on this page was the fiskars texture plates. The grid is one of those. You put paper onto a plate with a recessed design, rub it with a tool and end up with a fancy design. It works well enough, and I like the outcome. Some of the designs in the package I bought were… boring and stale but some like the grid and scales were right on.
The final new item I bought were Making Memories foam letters. Not a new to me item but new to my journaling arsenal. These were pretty awesome, and not a boring font either.