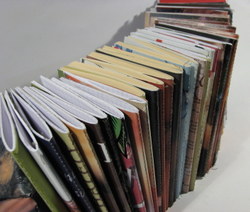 Good News Good News Good News!
#1. I'm feeling so much better. I'm able to sit up for extended periods of time and I'm down to a single nap a day. Yay!
#2. Sewing cradles are BACK! I've recruited my Dad to make them instead of my brother. Dad is a little older and a lot more responsible than my brother so you can expect that they will ship within a day or 2 of your order. They will be shipped from Jonesboro, ME via priority mail. Very exciting. You can get them here!
So the really great news is that I'm back to making books, I have energy and I'm not wiped out anymore. Who knew the flu was so bad? I haven't been so sick since I was a little kid. I've been in a frenzy of making jotters the last few days. I scored a ton of great posters from work right before I was sick and I chopped them all down to jotter size, so I've got a ton of covers. I had listed something like 9 sets of books before I was sick and I just finished another 9 sets, this time with graph paper and sketchbook paper filling them up. I'm pretty happy with how they turned out. I'll be listing them across this coming week.