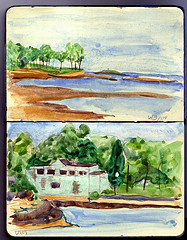 At the beach after work
Originally uploaded by lessherger
I don't usually do much after work, Getting up at 5 am and getting home around 4:30pm and driving on 128? Sucks. But today almost home C called me from the beach wanting me to drive there. I almost said no, but then realized that I had nothing better to do than fall asleep on the couch. So, I went brought a couple of sodas and endured: ants, annoying lady screaming at her kid, and the wannabe bad ass kids talking about sex and getting drunk all thew while being obnoxious about he whole thing.
I also noticed that the posted time for allowing dogs on the beach is now 7:30pm rather than last year's 7pm. Sigh too bad my dogs LOVE the beach and don't poo all over the place, it's one of the few places we can let Ruby run free. It almost makes me want to participate in town politics. Like I said almost. I'd rather be able to have my dogs on the beach and pay more for a park guard than not have my dog on the beach. As is my taxes are outrageous.