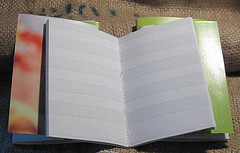 1984 Called it wants it's paper back
Originally uploaded by lessherger
Oh man. I love this paper. It's so so cool. It's 1980's vintage IBM dot matrix computer paper. It came in a giant 2500 sheet box, all connected.Oh so pure vintage, just like when I was in grade school!
I have some notebooks on my etsy site with this paper in them. So totally rad!