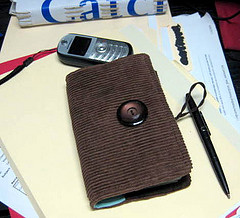 Jotter Wallet by GoodKarma
Originally uploaded by lessherger
GoodKarma on etsy, makes a wallet and a case specifically to fit my jotter notebooks and cahiers. The case is very well made and holds all my cards and what little cash I have on hand. In the back the pocket that holds the noteboks is snug and a perfect fit. There is a spot to hold a pen and a zippered pocket in the front. I'm excited about these. ANyone who buys a case or wallet from goodkarma will get a special discount code to use on refill note books! sa-weet!