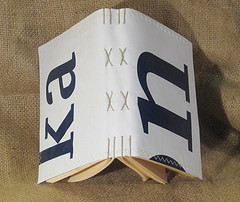 Sign Vinyl Journal, more pages
Originally uploaded by lessherger
I started making the large sized sign vinyl journals agian. These are 6×9 inches. Each side of the cover has a large pocket for storage of what not. I've upped the number of pages from 160 to 240 and it's filled with ivory Wausau acid free paper. It's 24lb and perfect for writing on with a variety of instruments. I"ve stitched the spine with natural unbelached and lightly hand waxed hemp. It's rugged and sturdy for everyday use and travel.