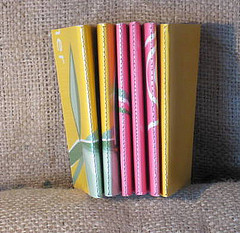 Sunny Yellow and Pink, Signs of Spring
Originally uploaded by lessherger
Spring has sprung, in some places but not here in the northeast. I put a mass amount of jotters up on etsy this weekend, 12 sets. 3 different types of paper, the 1984 IBM computer paper in green and white, then Strathmore in white and gray. All sorts of colored covers too, pinks, yellow, blues, greens and gray.
These colors remind me of spring, bright cheerful and with leafy flowery patterning on the covers.