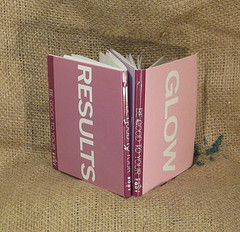 100% recycled Upcycled Notebooks
Originally uploaded by lessherger
Aw yeah new stuff, different from my usual stuff, limited edition, check it out!
cardboard that fold up into display boxes about 5×5 inches. He thought I might like to play with them to see what I could get out of them for books. I only have 5 of the forms. I was able to chop them up to get 1 books each form (3 sides each books). I used the remaining side to reinforce the back cover.
I used some scraps left over from cutting my jotters to size to make the interior. It's the retro computer paper.