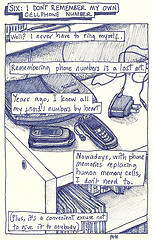 6, i don't remember my own cellphone number
Originally uploaded by petescully
I don't know if I've blogged about PeteScully's fantastic journal like drawings. So perfectly rendered and lovely lines with just the right amount of words. I can waste hours of my life reading through his flickr set, you should too!