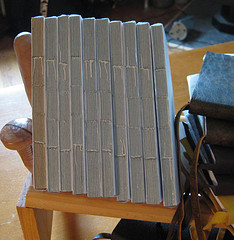 Book Blocks first gluing
Originally uploaded by lessherger
These book blocks are fresh out of the press. It's their first gluing.The glue seeps a little into th block and setsthe signatures in place. After they get the thin layer of glue , they go in the press overnight so that the spine is compressed. I use acid free PVA so the spine is nice and flexible. At this point eh blocks are very sturdy and can survive waiting for me to put a place marker, spine support and a cover on them.
The greenish paper is a recycled paper with US currency in it. IT's a nice soft green with a few fibery bits and occasionally a larger chunk of dollah bill. The Brown paper on the end is recycled into kraft like paper. It's the same in color but it's very smooth and perfect for writing. Both are acid free.