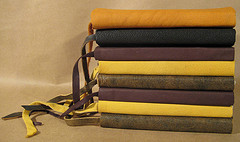 Still Needing a Pocket and Elastic
Originally uploaded by lessherger
I decided to try out a new backdrop for my pictures. I"d ben using the back side of an old coffee bag, that worked very well but lately I felt it was too distracting. IN the past I had used a different burlap bag and it had a tighter weave and was less fibrous. Also it had a large stamp on the back that said Ivory.
In the past I've used a white backdrop, which was a simple piece of white posterboard. I liked that very little. It also made getting a good clean shot difficult but made macro shots easy.
I wanted something that keep that rough recycled look but was a little cleaner than the burlap. I found it in kraft paper.