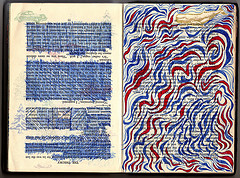 red blue pen
Originally uploaded by mindbum
I particularly enjoy this page of this altered book by mindbum. I initially found this flickr through doodler's anonymous (my newest website to obsessively pour over) And stuck around because mindbum does his/her art in a book. I've always wanted to get into altered books but can't. As a bookbinder I adore books and I have a hard time drawing in them and paining in them. I have a couple that I've started and I never get more than a dozen or so pages in before I give up and switch to blank pages.
It's part of the reason I made the magazine page journal. I wanted to have something to work on top of and to help get past the fear of the blank page. It's not bad. The paper is inexpensive (got the mags for free) and I don't mind skipping pages and moving on. I may see if I can find some damaged books at the thrift store and work in those. We'll see.