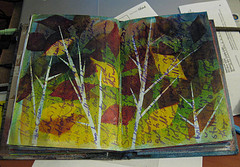 fall is here
Originally uploaded by lessherger
This is my favorite page out of my current art journal. I made it by covering the page in gesso, then writing on it in sharpie, going over that with a very thin coat of gesso. Then I masked out my tree shapes with painters tape, that I cut with an exacto,
I painted over the shapes with yellow acrylic, then put layers of watercolor crayon over the top of that. I used orange red and yellow. I then cut a stencil and a few masks from some old poster I had around. I covered the back in spray glue. I put down the masks where I wanted the yellow colro to stay. I then used the stencil to add layers of green, blue, red, orange, and dark yellow spray inks. My intent was to give the feel of leaves falling.
the layers of color and ink also help to obscure the actual writing with the sharpie, which lifts through the layers of gesso and acrylic to add some visual texture to the painting itself. I like this page a lot because of thes layers of color and meaning.
The journal entry was about how much I love fall but miss being in school.