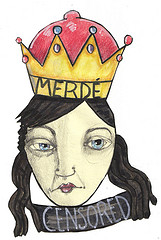 Censored by the Queen of Merde
Originally uploaded by lessherger
This image is being put out there with a creative commons license. You like it, download it, print it, use it in your art journal or blog or youtube video. All I ask is that you give me, LessHerger or ComfortableShoesStudio.com credit for it's creation, with either a link to flickr or my blog.