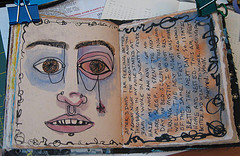 feelin like crapola
Originally uploaded by lessherger
I decided to  start a new feature on my blog. Every Tuesday I'll take an
Art Journal image of mine and dissect the techniques I used to create
it. Welcome to the new Technique Tuesday!
A few weeks ago I was hellishly ill with the flu (I think) and was out of commission for 2 days. I was sick enough that I didn't art journal! So when I started to feel better I was working on raw paper again. Again the paper is Stonehenge 140lb. I started this page by creating the border. Using a waterbrush I outlined the page in water. The edge was still moist when I used my brush pen to scribble the border. I held the pen at the very end and allowed myself to work very loose. Because the page was moist the ink feathered and spread out. Because I had not gesso'd the page the spread was very controlled. On the right page I again wet the page so that the ink would spread more. I then sketched out the left page with a pilot G2 gel pen. With my waterbrush in hand I added watercolor as I finished an area of the sketch. I used my watercolors to add color to the facing page, allowed that to dry and then wrote in the same gel pen I'd used to sketch the previous page.
This was a very simple but effective page to create. I particularly love the spread of the ink onto the moist raw paper and the conjunction of the watercolor and ink.
You can see the full sized image and get a lot of detail by clicking on
the thumbnail above and clicking the "see all sizes" button above the
image that comes up.