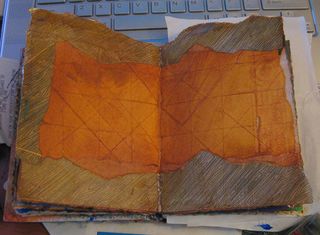 To create this texture I took a manila junk mailer and folded it into strips and then triangles. I sanded some of the creases to make them more prominent. In doing that I tore some of the creases. I unfolded the paper and used gloss gel medium to adhere it to the pages of the journal. I was not happy with the edges so I tore up some envelopes and framed the page with the torn envelope.
Still not happy, I mixed up a glaze of 1 part gel medium and 1 part paint. Mixed it well and used a bristle brush to spread it over the painting. I used a rage to remove some of the glaze.
After the glaze had dried I wanted to darken the edges some more so I used a brown watercolor crayon to darken the edges. I used gel medium to blend it into the rest of the page.
In this page I realized I do NOT like glossy glossy pages. I like it when my paint STICKS to the page and doesn't SLIP around on it.