I live 1 mile from the Atlantic ocean. Beverly has a plethora of gorgeous public parks on hte water. One of my favorites is Obear park. It's often populated by adults with their dogs rahter than adults with their children. Personally, I prefer the dogs, they are mostly silent and unlike Lynch park, the darling park of Beverly, there are few children being chased about by mothers ready to hen peck them.
Often I'm one of a few other people there. I'm able to set up with my sketchbook and sit in quiet solitude, headphones and ipod at the ready but not actually on, becuase it's quiet. In the distance I can hear the hum of traffic buzzing over the Kernwood bridge as they head into salem or into beverly. The horn sounds and the bridge turns allowing yachts and sailboats in and out of the harbor. It's a lovely scene.
I've sketched it often.
The Salem side of the bridge abuts the Kerwood Golf Course, a well maintained vista of lush green grass and well cared for trees. The beverly side juts into scrubby grasses and dirty looking sand. I love both sides.
Today I quickly sketched each side and then painted each side. I paid particulrly close attention to the sky. a touch of cad red into a load of titanium whitebrushed quickly inthe area captured it just perfectly. (I plan on doing some more cloud studies, these had me hooked.) I layered in some of the pink for the water and added the blue. It was a warm day with low humidity so my pink was dry before I got back to the top with my pale blue. Pthalo blue and white made for  a perfect sky color. The pthalo blue made for great shadows in the trees as well. I worked quickly on this, completing it in about 45 minutes.
I forgot my burnt umber, which would have been the perfect under color for the water.
i'm pretty happy with this one.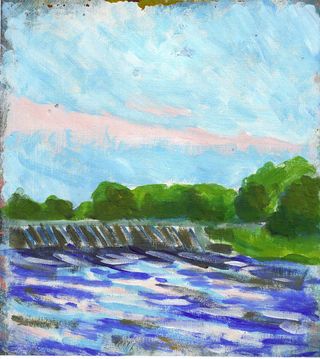 this one on the other hand… NOt so happy with. I like the composition and sky but the trees leave me flat. Unlike the careful layers I made with teh other trees I globbed these on and they don't sit properly.