My usual method of listening to music is to down load 2 or 3 albums and toss them into a mix on iTunes and hit "random" and "repeat." I then let this play until I get bored. Finding boredom with music can take up to a month or 2, less so for Christie. I've been told that my music listening habit is annoying and boring. I've tried to liven it up by creating a larger playlist but for an ADHD music listener like Christie even 6 albums on constant rotation is akin to torture.
My recent addiction is to Telekinesis. They have a new ep out called Parallel Seismic Conspiracies with a fun song on it called "Dirty Thing." With surf music like beats and twanging guitars and lyrics that speak of broken hearts it's a perfect end of summer song. I've been addicted to them for some time and on this ep they have a new version of their song "Calling all the Doctors" and it's a humming guitar and snappy beat filled song with smart lyrics. One particular lyric "replace my heart with a machine" has been sticking with me for a few weeks. It's one of those lyrics that as I think about it imagines appear in my mind. It's a great thing when it occurs and goes away. Because I've been listening to telekinesis on constant rotation the last few weeks the images have stuck. So I decided to get it out of my head and onto paper.
I started with a rough idea in my weight weenie journal and layered on some bright watercolors.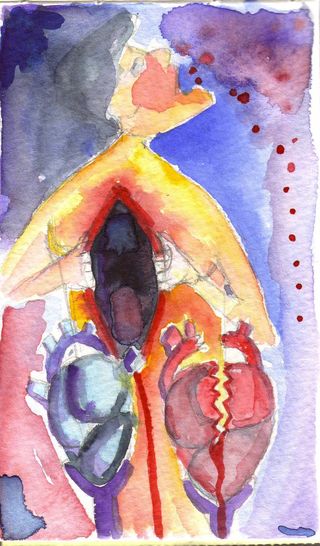 I wanted the replacement machine to look less heart like and more machine like, so I added more blues and grays in the next image. I also changed the position of the head.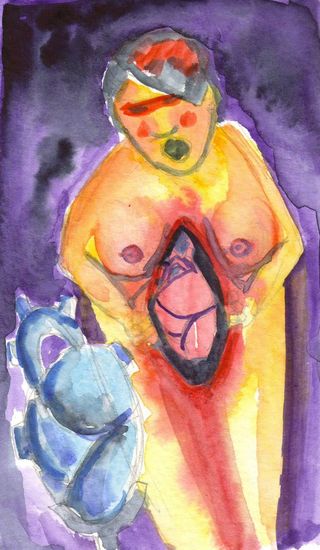 I got talking to my buddy and coworker Anthony Ciampa about my idea and how I wanted the heart to look like a more traditional symbolic heart and the heart in the cavity to look more realistic heart but still with a break. He made the suggestion that I have the heart hanging out of the cavity by "strings." I thought it was a lovely idea and set about to do that.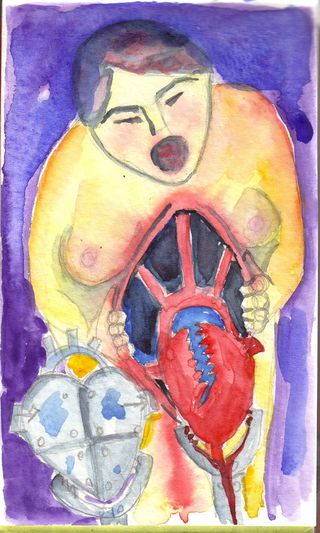 I'm still deciding if I want to do this piece on paper, canvas or board. But I've started a much larger acrylic piece (6x12in) and really like how acrylic really brings the idea to life. I think a few layers of glaze here and there will really make this image exactly what I'm looking for. Below the image is far from finished.