The cult of stuff has been great. I've felt more free since I identified the worm of stuff inside my head. The need to buy more and do less with it, collecting supplies like they are Hummel figurines. (Don't know Hummel? I bet your grandmother had one or 2.)
Since casting aside the yoke of stuff I've noticed I'm more inspired to create. I went painting again this weekend. This time Jane couldn't go so I headed to Salem Willows on my own to grab a rocky patch and do a little painting. The pochade on the tripod was a raging success. The adjustable legs let me set up where ever I wanted. The thing I was mostly worried about- stability of the quick release head, I'm pleased to report, it did just fine. There wasn't any wind to speak of so the stability of the lid and bungee cord wasn't tested, but I suspect it will do just fine.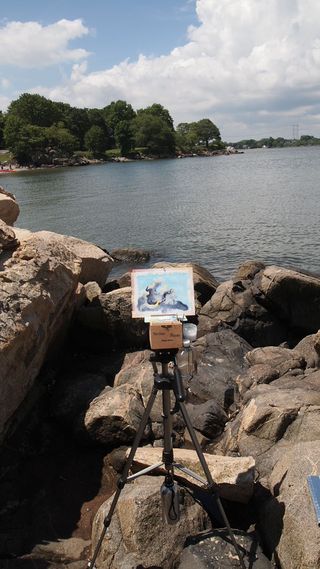 Moira, of Crafty Moira has a post up called "Buy Nothing Summer." It's great and she quotes the Cult of Stuff in it. Go Go cult of stuff!