I picked up a single 3.5×5.5 inch notebook at Staples for $3.99, which seems pretty pricey for 38 pages, but that's not pages but sheets, so you can double that, to 76 pages. Still a little pricey. All of the pages are perforated.
The cover has a plastic-y surface that is embossed with a very simple fabric like texture. It's subtle. Inside the same fabric like theme is carried to the end sheets, where a woven like print is done in 2 colors, in all the notebooks I looked at the colors coordinated with the cover. Since I purchased a black notebook mine has black and gray printing. The end sheet has a "This notebook Belongs to:" section. then the following page has a more detailed version of the same info. I think they should stick to one or the other, having both seems like overkill. After that are a couple of lists of holidays as far out as 2014. Seriously, in a 76 page notebook? Is anyone actually going to plan 2 years in advance in a 76 page pocket sized notebook? Maybe in some of the larger notebooks I'd buy that but not in the pocket sized notebook.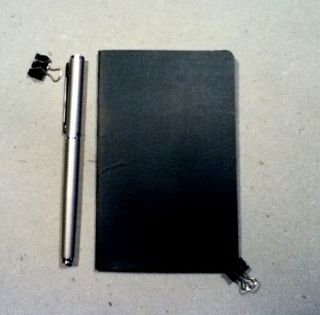 These remind me of the old Moleskine Volants but with a sturdier cover. I've used Volants for years as a GTD tool for my DayJob. I picked this up as a GTD tool for Put it on Paper.
Inside the pages are cream/ivory colored, ever slightly so and my black notebook has blue dotted lines. I rather like that the the lines are not solid, it makes them subtle. I tested the notebook with my TWSBI 540 with heart of darkness ink. Granted my TWSBI writes wet but it soaked through on every page no matter how fast I wrote. Testing with some finer pens eliminated the soaking through but not the show through. The paper is thin. it reminds me a lot of Moleskine paper, but it behaves with ink better. With my finer nibs I didn't notice any feathering or spread. In fact finer nibs performed really well. The paper is nice and smooth, all my nibs felt pretty good on it. It's not as smooth as Rhodia or Clairefontaine paper but reminds me of the paper in a Moleskine Cahier.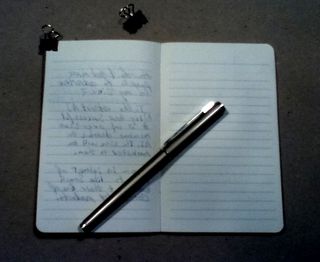 I did a test run on the paper with a gel pen and it, as expected, performed flawlessly. I really expect that these were designed to perform perfectly with gel pens or ball points. It might even work well with a liquid ink pen in a fine point, like a Pilot V5 or the like.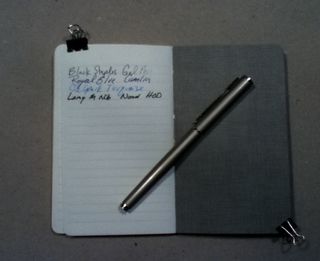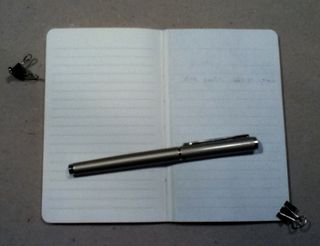 I wish these came unlined. I like the fact they come in singles so I can mix and match colors. The line has a range of nice colors and patterns that don't really strike my fancy. I prefer the big bright colors of the Moleskine range versus the subdued colors of Martha. If these were unlined I could see myself picking them up one at a time as I ran out. Staples offers a lot of coupons so these could end up being less expensive than the $3.99.
There are 2 things here that are deal killers for this notebook for me. First is the perforated pages. I can't have all the pages in my notebook perforated. When a notebook like this lives in my back pocket, my bag, my jacket pocket, and on my desk it gets beaten up and perforated pages fall out. I've got a few moleskine cahiers and Volants where I've taped pages in with some washi tape. While I enjoy the washi tape I don't want to have to resort to using up a roll to hold in all my pages. The final deal killer is that they only come lined. I like blank pages.
One of the other things I noticed which is  not a beef with the notebook but with the display at Staples, I can see these notebooks getting REALLY beat up fast. I noticed several notebooks with curled covers and one with a cut on the back of it and a few with dog eared pages. I appreciate the ecologically minded packaging, but perhaps the band should go the WHOLE way around the notebook instead of just around the cover? Anyway, keep an eye on Staples clearance section  a few beaten up pieces are sure to land there.