The last few days have been days of art. I've been soaking them up and putting them into the reserve to carry me through the next few months. I'm headed back to the DayJob on Monday so I can continue to fund my art activities. The last few days have been nothing short of glorious. It doesn't get much better than spending days off of the DayJob making art.
I've been banging out the thank you ATCs for the ArtJournaling.ning.com sponsors,  I'm 24 into the total of 34. Only 10 left. I'm pretty excited about getting them done so timely. I think I can get another 5 or so done today.
I spent Saturday doing my usual art visit with Jane in Salem.We talked about Put it on Paper, our reviews we'll be doing, updates on the articles for the next issue and things we'll be doing on the blog. Pretty exciting stuff. Then we spent the rest of the AM drawing around Salem. I also stopped to snap a lot of pics along the way.
In the afternoon, I switched lenses and C and I wandered up to Atomic for some iced caffeinated goodness and then went to sit in the Common. We stumbled upon [space] having an interactive still life. They invited us to sit down and participate, so I did. Now that I'm 10+ years out of college it was a blast listening to the art school kids talk art. I haven't heard so much art speak in one place since 1998. It was particularly enjoyable to sit down and sketch an everything and the kitchen sink still life, since I haven't done that since drawing 1. I should have moved around the still life more and tried a few different angles, I really wanted to draw this parrot sculpture again, but instead stuck to my spot and continued on making muddy sketches. It was fun.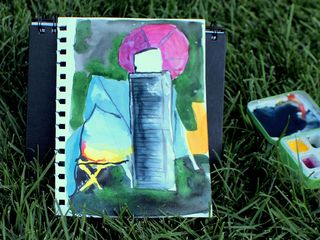 The vintage 28-50mm Magnum lens performed really well today when I was in Salem. I picked up a lcd viewfinder  so I could focus the manual lenses in harsh light and it made all the difference in using my vintage manual lenses. Where I was unable to get a sharp focus before I did this time. Perfectly sharp. The Star-d 28mm lens(rebranded vivitar) gives me fits in harsh light. I need to get a lens hood. It completely flairs out and I end up with washed out image. I don't even get good flair with it, just washed out images. So aggravating. But when it was good it was really good.