A few months back a friend of mine messaged me on FaceBook asking me to go to a gathering of artists at his place. I couldn't go because of the DayJob. I got another message that the group was getting together again on Friday. This time I was able to go. I was able to meet a bunch of local artists and talk about some ideas for showing our art and things we'd like to be able to do.
I wasn't shy about drawing my fellow artists. I stared as they spoke. We passed around examples of our art. We talked. We passed around sketchbooks. We all drew.
Here are some drawings from Friday night.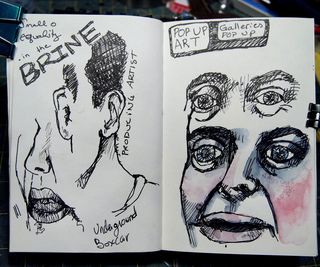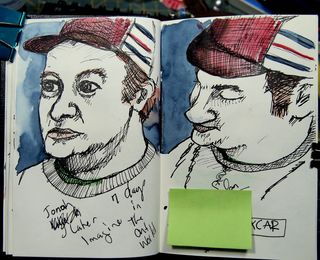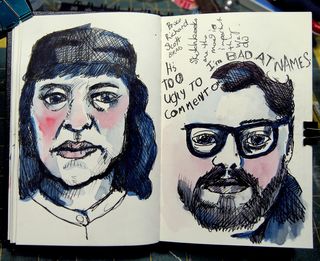 It's the first art group meeting I've been to since I left college way back in 1998. I  had trepidations about going but all in all it was a great time. I met a guy who keeps what he calls "his books" and I would call art journals. They blew my mind. I could have sat there all night and looked through his books. He worked really simply in large sized Moleskine sketchbooks and regular sharpies. Thick bold lines. Simple. Mind blowing. I met scott who makes art chairs and sculptures. Bruce who makes comics and puppets.  A potter. A portrait painter, 4×8 foot portraits. A guy who makes soft sculptures and fun audio devices. We were all so diverse and yet all had art in common.