In stark contrast to last week this week has been pretty darn amazing. I'm shocked that so much positivity can be jam packed into one short week, but it can. At the start of the week I went to the Beverly Farmer's Market and bought some great fresh produce from local  growers and it was amazing. I took a moment to sketch a tomato, see it on PioP. It seemed to set my week off on the right foot. Then in the middle of the week I received a package of Stillman and Birn sketchbooks, if you've read here, you know I am already a huge fan. I immediately cracked open a 4×6 hard bound Gamma and wow, just, wow. I'll have a full review up on Thursday. I've been walking more consistently and my ankle is starting to feel better and I find that I have to wear my brace less and less. Which is a giant positive in this heat, since the brace causes much uncomfortableness.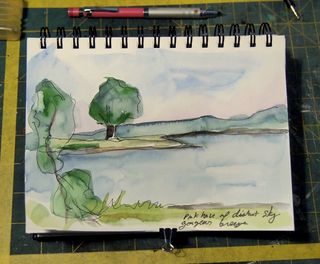 At some point during the week I talked to one of my friends about recent happenings and it caused a shift in my thought processes and a deep realization. I'll share more in the upcoming weeks. Just know that this realization will involve some major life changes for me and I expect it will make some major differences in the blog, art journaling ning, and life in general.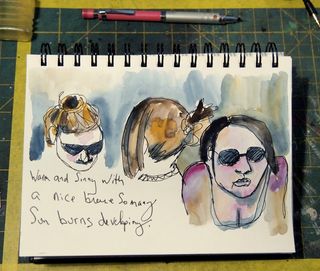 After the shift in my thinking things only went up from there. I got spectacular news on Friday. Friday night we walked up to Atomic expecting fiddle music only to find that the fiddle music is on the 1st and 3rd Friday of the month. We sat in the relatively quiet shop and chatted and ran into an old friend. The temperature and humidity were simply perfect for the night and walking.  We also got word that C got the extension on her fellowship.


It's not so much that I was super positive about things, it's that I decided that a major and realistic change NEEDED to happen sooner than I had planned and expected. It seems that things are falling into place just as we need them to. This week I'm going to hold that in my thoughts, I'm going to look for one amazing thing and take time for it tomorrow and set my week off on the right foot.