Well it's been a crazy few weeks here in Comfortable Shoes Studio. A few weeks back I had car troubles and it completely depleted my reserves. It came as quite a shock when Ning sent me the email telling me that the yearly fee was coming due soon. Now, I know that the fee is due in the last week of July, it's an every year sort of thing. It's also one of those things I set out of my mind, especially when things are rough. So I paid for the brake system on one car and then the muffler on the other and didn't think of poor Ning.
Like many people, I live paycheck to paycheck with a small reserve of funds built up over time. In fact I had been doing pretty well, I had cashed in my stock options, bought a shiny new computer and video camera and paid a bill or two. Needless to say I had a little buyer's remorse when both cars decided to break down at once. So when that Ning bill came up as due soon, I decided to do my usual funding drive, but unlike most years where I ask for part of the fee, I asked the members for as much of it as we could get.
The outpouring of support, kind emails, and love of the group has been overwhelming and has on more than one occasion brought tears to my eyes. The members of Artjournaling.ning.com are the best in the world. I received donations from Germany, Australia, Canada, South America, England, and South Africa. I closed donations as soon as we hit the amount needed to pay the fee. After I closed the doors, people still wanted to donate, they sent in tips via the tip jar in the Challenge group. I got many more emails, again positive about the group.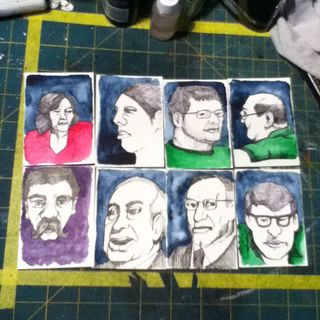 It was simply overwhelming. We raised the full fee in 18 hours.
I've received a few extra donations and I'm finding a way to sink that into the site. I decided straight away that the first thing I'd do to thank everyone who donated was send them a handwritten thank you note. After we reached the funding goal in 18 hours I wanted to do something a little more, so I decided I could fit an ATC into each envelope. I cut a bunch of ATC from some nice watercolor paper grabbed my pens and set to work.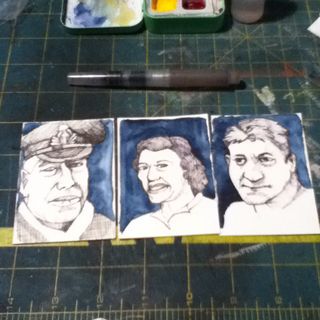 I thought that the ATC size would be a fast way to get everyone a small token of thanks. Heh. Heh. Heh. It is small, I'm working with smaller pens- Uniball Signo Bit 0.18 and Signo DX 0.28 in black with a wash of watercolor. These pens are tiny and I decided to stretch my artistic muscles by doing tiny little portraits. It took me a few cards to get accustomed to the ATC size but now I'm 13 cards into making a set of 34. Each card is taking much longer to complete than I had expected. Though I've shrunk the size of the portraits down I have not shrunk the time of creation down. Each of the ATC takes as long as a 5×7 inch portrait to create. So I'm spending anywhere from 15 to 45 minutes on each card. I was planning on spending a mere 15 min per card, but working with micro tips simply doesn't allow me to speed the process up. If anyone ever tells you ATC are easy, they are totally wrong.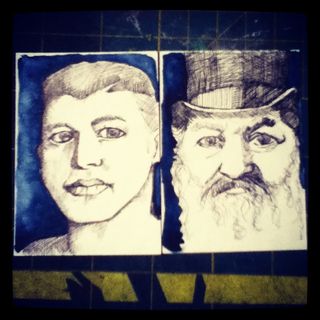 I've done some of the cards from life while sitting in Atomic Cafe and sipping an iced Americano, the rest have been drawn from images in the Flickr Commons. I've been giving my own spin to each image. I'm enjoying the process even if it was unexpected.