I've mentioned that I love my Kaweco Sport medium nibbed fountain pen. It's a decent looking workhorse pen. one I'm not afraid to take anywhere and draw anything with. It's moderate price (in fountain pen terms) means I'll be upset but not too heartbroken if I lose it. Who am I kidding, I'll be a wreck if I ever lose it. I love this damn pen.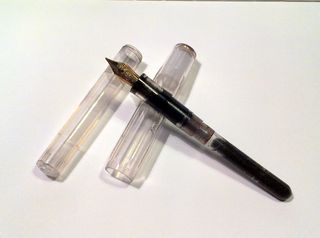 I read this page on the fountain pen network about making a bulb filler for the pen. And I thought huh, I can do that. So I did.

I had to order "sacs" for my pen, which I did through this guy. Minimum order is $15, so I had to spend $20. I've kep a few aside for further hacking and tinkering and the rest are for sale in the classifieds section of the FPN.
Anyway, here is the video.
This hack will work with any pen. I also made a filler for my old Rotring Esprit.