I
have been holding out on getting one of the oft lauded Palomino
Blackwing pencils. I don't know why I held out for so long. All my
friends said they were great and I knew I loved the Palomino pencils I
already owned.  I snagged a couple from a friend just to see what they
were all about and not sure what to expect. I'm not going to go into the
history of the pencil, you can read all about that here. I suspected going into this that this would be a good review. I've got
many other Palomino pencils and I really enjoy their velvety smooth
graphite core.
When
I opened the package they were secured in some bubble wrap. When I
peeled that away I was presented with some very unique looking pencils.
The black paint on the Blackwing was matte and a nice black. the
printing of the logo was crisp, though not indented and I could see
where it was starting to flake off already. That doesn't matter to me
but occasionally I'll notice a fleck of gold on my hand as I use the
pencil. Like fairy dust…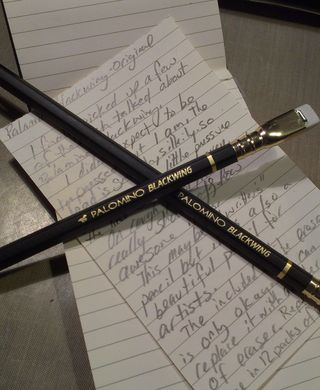 The
part of the pencil's look that is the most noticeable is the ferrule
that holds the eraser and the eraser itself. The Blackwing comes with a
rectangular white plastic eraser set into a rectangular ferrule that
turns round to attach to the pencil itself. It's pretty cool and totally
unique. (Of course the history lesson here will tell you it's NOT
unique, but I shall only say here, it's unique to the market TODAY.) The
eraser is easily removed and replaced should you wear it down to a
nubbin. You can buy a 12-pack in white, pink, or black. I found the
white eraser to work but was not the most effective eraser. I rarely use
erasers on the end of my pencils but I found myself using these because
they are cool.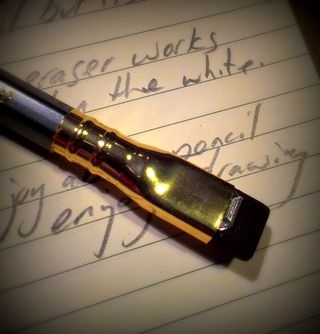 The
pencil sharpened easily with my KUM long point sharpener. It held that
point through a sketching session without breaking at any pressure. The
graphite was smooth and dark. Not a scratchy bit to be found during any
of my sketching times. Light pressure yielded a nice result and heavy
pressure a deep dark mark. Variation in tone was easily possible simply
through varying my pressure and layering.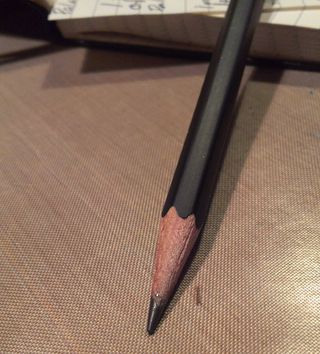 I
also had a pair of Blackwing 602 pencils in my package. These have a
nice gray paint job and black erasers. The graphite was slightly harder
and lighter. It was just as smooth as the regular Blackwing. The black
eraser seemed to be slightly gritty but erased much better than the
white erasers. Sharpening was a breeze and thought I filled pages in my
sketchbook I had no breaks nor crumbles.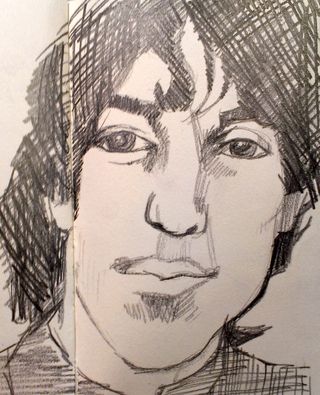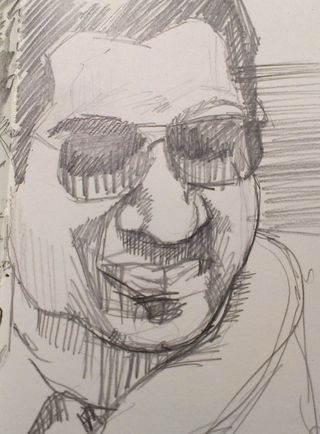 I
also did a little writing with these pencils, just because I had to.
Little pressure produced a nice line. The regular blackwing produced a
nice dark line even with little pressure. The 602 needed to be sharpened
less often. Both were silky smooth to use.
Overall
these 2 pencils are amazing for sketching or writing. They are
attention grabbing that's for sure. I know I saw someone in the coffee
shop eyeing my pencils, so I made sure they were secured when I stepped
away…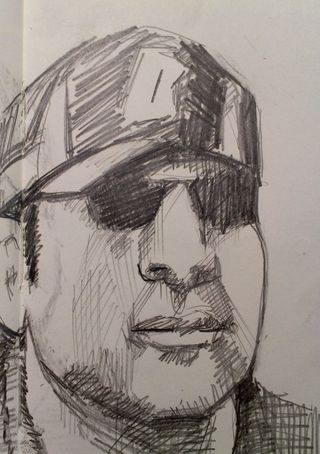 You can get these pencils from the European Paper Company here.
I purchased these pencils for review, they were not provided to me by European Paper Company, however if you purchase them through the provided link I will be compensated.