You
might think that because I'm working so hard on  "My Headlines and
Stories" and making books that I'm ignoring my art journaling. While I
might go a day or so without art journaling I'm definitely journaling.
I'm
also getting ready to do 30 in June. Which I've mentioned before as my
method of getting back into the daily manner of art journaling, which
I've definately NOT been doing. I wrote about the 30 in June here.
(Let's see if I can remember to link that up when I post this…) Small
5×7 pieces posted to the blog, daily along with being put on Etsy. Yeah,
I'm going to sell the art journal pages. Why? No idea, but the thought
was to keep me honest and force me to have a goal in their creation and
to keep creating. Without a forced public goal (blog post and etsy) what
is to keep me creating? I think eventually I'll be able to just create
on the positive vibe of the art making.  Who am I kidding, I like goals,
I need goals, so I give myself goals…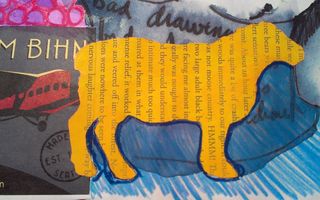 Do you want to join in or just watch the fun? Starting June 1, watch here for lots of art journaling experimentation.