I
have a massive clearance sale of old stock items currently up on my
etsy page. (That was worded awkwardly, but you get my drift.) I've got
old stock jotters from my old Artfire account, around 25 or so 6-packs,
but the deal is, I get to pick the covers. I didn't want to spend a lot
of time shooting 100's of pics so you get what you get for covers. You
can send me a message telling me, "OMG I hate pink." I'll avoid pink for
you. I've got white paper and not white paper as well as a few packs of
lined, graph and vintage rad IBM paper. $6 a 6-pack, several $ off from
my usual price. I won't be stitching up any more of this style of
jotter, the machine I used to stitch them died so all my future jotters
will be hand stitched. So, the time to stock up is NOW!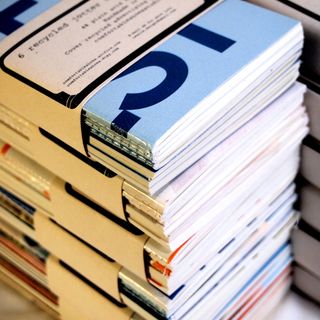 I
also have a bunch of art journaling and sketching supplies that I've
been hoarding. Several packages each of Palomino writing and sketching
pencils and some of their colored pencils. Selling WAY below list price.
I also have what I call the "Art Journaling Basic Kit." It's got an
assortment of pencils, colored pencils and a KUM brass wedge sharpener.
All materials I like a lot. Also selling way below lists price on these
items. These items ship free if purchased in combination with a journal
or jotter set.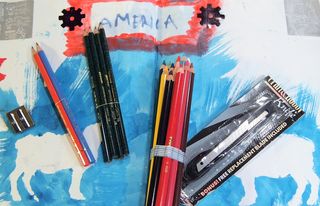 I
also have a bunch of what I'm calling the Behemoth journals, 300 pages
of great paper all stitched into one of my recycled sign vinyl covers.
Why 300 pages? I miss counted when I did my paper folding and put more
sheets than usual into the journals, my mistake is your bonus. These fat
journals are just begging to be filled with your thoughts, gratitudes,
EDM sketches, doodles and art journaling. Also did I mention that they
are awesomely thick? Also, heavy.