I've been doing a lot of doodling. One of my all time favorite cheap-o pens for doodling is the Uni-ball Vision Fine Point
. It's smooth, dark black ink flows well and doesn't bleed when wet. So I can flood a wash of watercolor over it when I'm done sketching and doodling. It's a great pen. You can get them just about anywhere for about $1 to $2 per pen. Not a bad deal.
C likes to use a medium point pen versus my needle point pens. She likes a nice smooth point so I usually stick with the Uniball pens, but I happened into Staples and found they had the Zebra Sarasa retractable pens in 0.7 black ink
on sale, so I bought a pack of 12. They came in a nice plastic case for storage. It would easily be useful for storing a pen assortment. I believe the sale was for $9.99. With no sale they can be found for about $1 a pen. They are also available in a wide assortment of colors.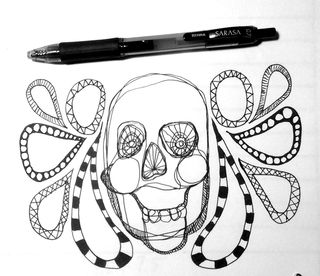 Why do I like these pens? First off they are dirt cheap in the arena of waterproof/resistant pens. The ink is dark and doesn't erase off the page when cleaning up pencil. The pen itself is as comfortable to use as any other clicky ball point, the build and construction is similar to
the Pilot G2, but I find that I get skipping with the G2 but none with the Sarasa. In other words the ink is smooth, dark and flows well when compared to other gel ink pens. Also one of the issues I have with the G2 is that it develops bubbles in the ink and then doesn't work. The
Sarasa doesn't seem to suffer from this effect, which is good.
In short a fantastic pen for art purposes, especially given the price.