I've ranted and raved about commercialism in art journaling before. (been under a rock or just discovering me now? Click here.) And I keep ranting about it. I've been gathering videos for technique today over the last few days. (It gives me a nice 20 minute or so break from reading heavy stuff.) It's becoming increasingly difficult to find videos with good solid art technique, if I stick to videos related to art journaling. I'm not usually too shy about looking at stuff that is art andnot art journaling related. But as I viewed video after video, it really hit me.
It's hard to find a video about art journaling that isn't a blatant ad for a product or process or linked to classes. All of it is trying to get us to part with our money. I'm wary of technique videos that read like a who's who of products. Tim Holtz this. Glimmer Mist that. Hellmuth's paints. Grunge Board. Glossy Accents. Spray inks. The videos don't teach us a technique but to be reliant on these products. They don't teach us how to make these product (though there are some old vids that do) they teach us to buy more.
Here's the deal, the secret, all you need to art journal is a pen and a journal. Call me a minimalist but my every day art journal carry (EDAJC) has been the following for the last 2 weeks: A Field Notes notebook, a BanditApple Carnet PeeWee, in a leather cover I made myself and a shitty ballpoint pen*. If I were to extend out my EDAJC I'd add a tin of watercolors in limited colors, a waterbrush, a camera**, a pencil and eraser.
I'm not making "great" art but I am making meaningful art. The art I'm making is helping me to remember the look of the sky as I waited when I picked up my partner. Or the jerking of the train as it rounded corners. Or calmed me after a busy class. This, to me, is what making and creating a journal is all about. It's not about the products I'm buying andusing. It's about the memories I'm creating. It's about my life.
It's real.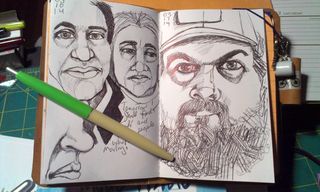 *And by shitty I mean, a sturdy servicable pen that works reliably. But Costs $1.25 and is a standard ball point. I review it here.
** Yup a camera. I've been using Hipstamatic on my old iPoo for awhile now, and it'sstill  just as fun as it ever was. I consider much of my photography as art journaling.