I tend to wax philosophic about higher end writing instruments while stating "You can make art with anything!" I also write more often about fountain pens, since fountain pens are a passion of mine and I enjoy using them I tend to shove that love into everyone's face. In some sense I think that if you try a FP you'll love it, but the truth is that sometimes, a ballpoint or rollerball pen will do just fine. My next few reviews are going to focus on the lower end of price spectrum, while one is for a fountain pen, it's one I think is worth reviewing (but that's next week.) This week it's all about the cheap, old fashioned, clicking ballpoint pen. If you are of a certain age you remember a time when businesses handed out pens with their contact info on them. My Grandmother always kept a cup of them handy near her phone. Because we lived in the country and we frequented places that sold feed and seed a good number of them were for that sort of location. The gas company, gas stations, electric company, and other places handed these out. At one point you could order the Bic Clic or Papermate pens in school colors. These pens were ubiquitous. They were the business party favors from the 50s to the 80s. In the mid 80s everything switched over from the refillable click pen with a metal clip to the Bic Clic Stic. You can still find the old metal clip Bic Clic online, if you want to order 300 of them you can get them for about 75 cents each, less if you order more. Well I don't have about $200 laying around to buy cheapo pens, but I did have $6.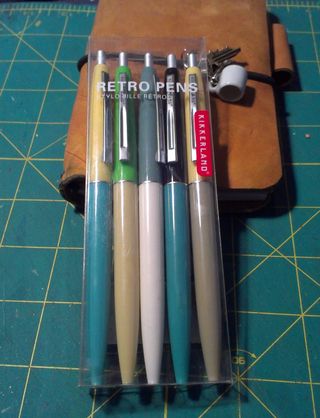 Kikkerland, the company known for selling the SuckUk and as being the former districbutor of Moleskine in the US, sells "Retro Pens." For about $6 (less if you have an artist and craftsman near you) you get 5 made in China old school style click pens. They arrive in a hard plastic box, that is useful for storing the unused pens.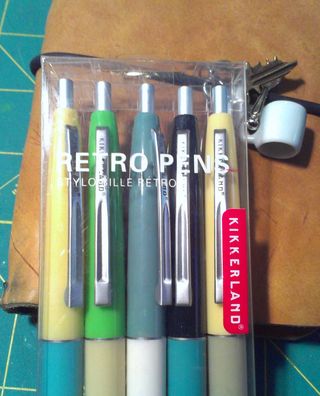 The five pens are mixed colors of dusty blue, cream, grey, green and black. Each pen has 2 colors, again a nod to the fact that most of the advertising pens you could buy had 2 colors with an imprint on the bottom half of the pen. In the middle of each pen is a slim metal ring with a matte finish. The clip and knock are the same matte silver metal. The clip is printed KIKKERLAND. The plastic is smooth and shiny. I noted a few scuff on each pen from being tossed about in the plastic box, but nothing that I really cared much about, considering this is a $1.25 pen.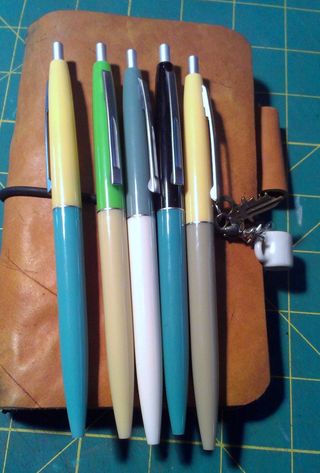 The point deploys via a satisfying click from the knock. The point itself has a very small amount of wiggle at the tip. It isn't noticeable as I write and draw. The knock does flop around loosely after the tip is deployed, but not an issue if you aren't a pen spinner or jiggler as you think. Again it's just not noticeable if you are writing or drawing.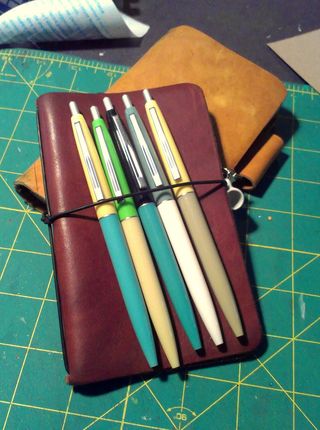 So, how does it write? Not bad. As far as cheap pens go, it could always be improved with a better refill. But straight out of the box it does okay in writing and drawing. It flows smoothly and evenly. It also has what I call the ability to create a "sensitive"line. Which means it responds to the pressure I use as I draw or write. Low pressure= light line higher pressure= darker line. For the style of drawing I've been doing this is very useful. The ink is nice and dark.  Do I think i'm going to be drawn to start taking class notes with this pen? Probably not. I'll keep using my fountain pens and gel inks for class notes. I got these specifically to draw on the subway and train. For that purpose they are wonderful.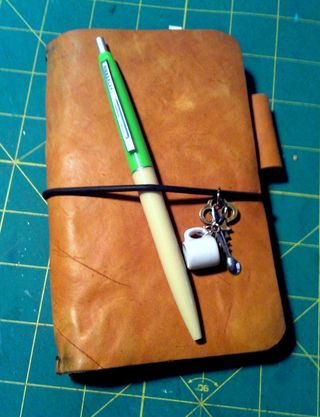 I have to say that the variety of colors is nice, especially if you are into matching your pen to your notebook/journal cover.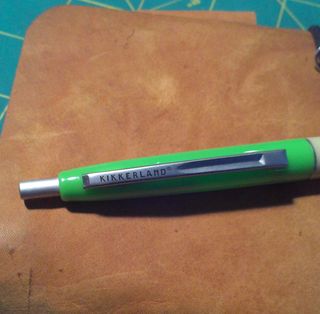 You can get these on Amazon
. You can also buy retro or vintage pens on etsy. Sometimes the sellers have rehabbed the pens to be in working order, and others you can get a few pens that need work or a new refill.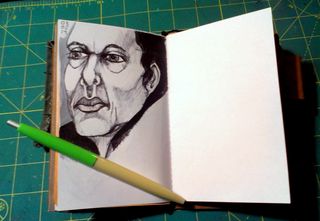 You can get refills on amazon or almost any office supply store. These are new pens so I haven't messed around with refills yet, but when I do, I'll keep you updated.
I've been using one of these non-stop for a little over a week. I've been putting it through it's paces as my EDC pen and thus far it's performing admirably well. While it's not as tough as an all metal bodied pen, I'm decidedly NOT careful with it. It's been getting shoved into my back pocket with my notebook and sat on, walked around, and generally abused. It's really getting the ass end of the deal… Anyway, sophomoric humor aside. The point is a little scratchy at a couple of angles. If I rotate the pen, the scratchiness disappears. This is, I think a function of the cheap refill. Which I've used over half while nearly continuously writing or drawing over the last week. I suspect that in another week I'll have killed the refill. As I've learned, I use a lot of ink. I might have to go hit up the refill display at Bob Slate again…
It is important to note that some of the buyers on Amazon complained about these pens falling apart after a few months use. Obviously, I've not had these pens that long so I can't tell you if that has been the case for me, again I'll update the review if they do start to fail in the same manner.
(Quick note. the click mechanism is not lubricated, and this could be the cause of failure. I remember taking apart my old clicky pens and finding a little bit of oil or grease in the click mechanism. Invariably, I'd do this in class, and get oil all over my notebook or whatever assignment I was completing. I had one teacher that this annoyed more than the others. I'm going to put a TINY dab of grease on my clicking mechanism, we'll see what happens.)
Also, as a moment of full disclosure, i've gotten free stuff to do giveaways from Kikkerland in the past. Those of you who are long time readers might remember the HUGE Moleskine giveaway I ran a few years ago? Anyway, that was back when Kikkerland was Moleskine's US distributor. Anyway, I purchased these pens on my own. that I like them has nothing to do with Kikkerland or any reason other than the pens are neat.