At the beginning of the summer I made 6 recycled sign vinyl journals. I've been making this style of books for years, it's my most popular handmade journal. It's friendly to people who don't want a leather journal, super tough and fantastic for those notes you need ot keep around. I used a similar journal for long term notes for my last 2 jobs. The notebook lasted the duration of each position and longer. I still have them. Though I don't need the information contained within them, they stand as testimony to the toughness of this vinyl and hemp combination. They are listed in my etsy shop.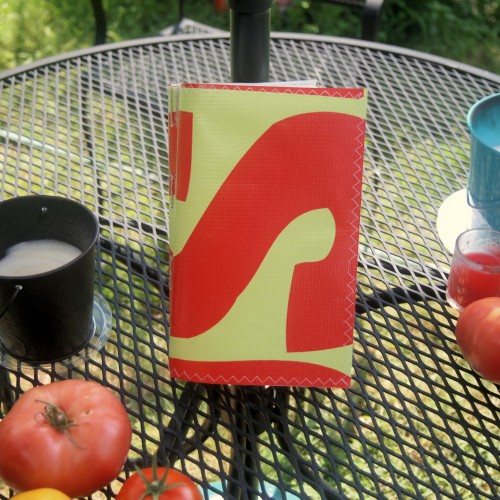 I have a stack of covers I've got to stitch up, but I'm going to have to be careful in my choice of paper that goes inside. Stitching up the covers with cardstock inside made my hands and wrist hurt in a new painful way.  It reminded me that I'm growing older and arthritis runs in my family. After I spent a day working on those books my hand hurt for weeks afterward. When I make these in the future it will be with lighter weight paper and in limited quantities. I've got a stack of covers to go through.
In other news I start up school again tomorrow and I'm looking forward to my classes. I'm particularly interested in my elective, Storytelling and Healing. I suspect it's going to be interesting. That class lasts until 9:30pm, so it had better be interesting!
I fixed up one of the many bikes I have in our garage that does not have a motor and was not in riding condition. I'm happy to report that the junky TREK 800 I bought for dirt money last year is now in riding condition and is in fact in better condition than I expected. Granted it isn't as nice as the other old TREK we have but I won't mind riding it to the train and leaving it parked. I also tested out the compact bike light I picked up via amazon a few months back. It's light is even visible during the day. That's a lot of lumens.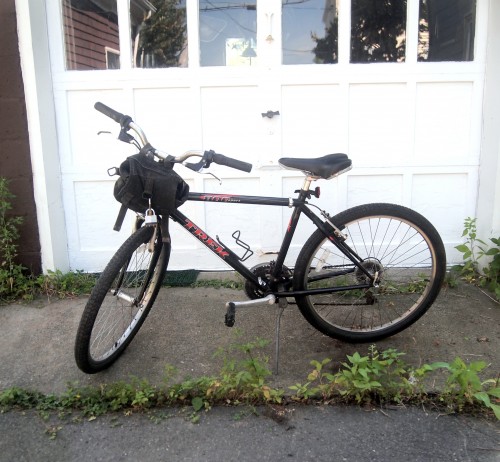 I hope to get back to writing more than just reviews for the blog. Right now I'm in the midst of harvesting the great things from my garden, this will only continue as I get more and more tomatoes, cucumbers, pears, and other yumminess. I meant to give regular garden updates but never got around to it. So here is a gratuitous shot of some of my yummy seckle pears. So tiny, so cute, so sweet, so tasty.