For my triumphant return to blogging after my thesis induced hiatus, I thought I'd start with a pencil that is equal parts magic and secret pencil processing, and that is the Mitsu-Bishi 9000 2B. It comes with the tagline "Made by Elaborate Process" stamped into its perfect, glossy green lacquer, so you know this is a special pencil. You might think that calling a pencil magic and elaborate in the same sentence is hyperbole, but I dare you to write with one of these pencils and try to tell me it's not magic.
Let's start off with how perfect this pencil looks, because the lacquer is thick, evenly applied and super glossy. The imprints are gold foil and also perfect.Near the non-business end there is a stripe of darker green with the grade of the pencil stamped, also in gold foil, also perfect. The grade is bracketed with asterisks. *2B* The bar code is stamped in white, close to the business end, so it is sharpened away more quickly. As all pencil makers should do it. The pencil is end dipped with one of those little plastic caps rather than paint, but this is also well done. Without a doubt this is a good looking pencil.
Inside the lacquer is fragrant cedar. Every Time I sharpen this pencil I'm reminded of dew covered forests with unicorns prancing about. Rainbow unicorn farts MUST smell like cedar. I'm telling you magic. That fragrant cedar is wrapped around a 2B core so smooth and dark on the page that writing with it is like writing with a stick of warm butter. It glides across any paper and even the lightest of pressure produces a mark that is deeply dark. Using this pencil on most any type of paper was quite nice. I experimented with Field Notes- Shelterwood's smooth paper produced nice results as did the standard issue paper in the WBEZ edition. I also checked it out in a Staples composition notebook, and a Bob Slate Mt Tom. The pencil did well on all of the mentioned papers. The comp book seemed to wear it down faster than other papers, but that is to be expected- it's toothy paper.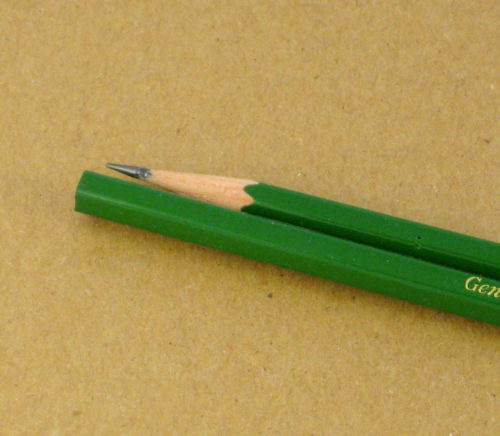 The one area the MB9000 2B has any issues is with point retention. In the land of 2B pencil, the MB9000 performs admirably, but it does wear down quickly, like most 2B pencils. I found myself touching up after only a page of comp book or after 2 pages in my FN. It's not horrible, but it's not great.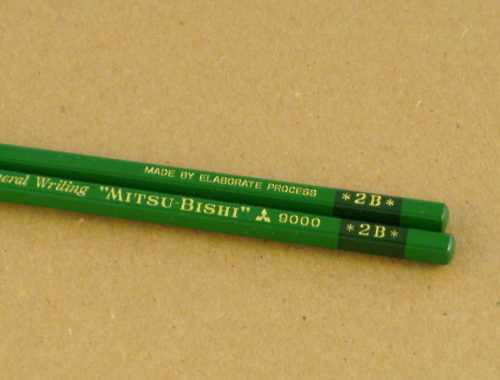 Using this pencils was simply nice all around. From its good looks to performance on paper, these are amazingly nice pencils. They are well worth the $1.05 at Jetpens. CWPE only carries the HB, also for $1, but I have it on good authority that the HB performs almost as well but has better point retention.