Story Supply Company was a fantastic Kickstarter back in Fall of 2015. I'm happy to say that I backed it to the tune of 2 packs of notebooks. I chose a pack of lined and grid rulings. I regret that I did not get a pack of their pencils at the same time.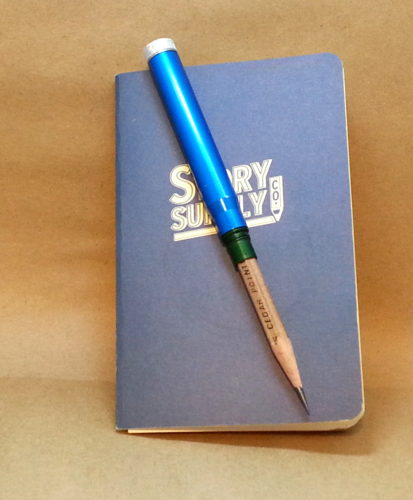 SSC notebooks sport nice thick covers, some of the thickest on any of my pocket notebooks I own. I compared them to Furrow, Field Notes, Calepino, Word, Write, Public Supply, etc… Though I did not get out the calipers, the SSC covers are the thickest. I feel that this makes using the SSC notebook very enjoyable for notes on the go. I don't have to rely on a cover to give the notebook needed heft, the notebook's got that on it's own. The covers sport a simply logo in a creamy yellow shade in a field of navy blue. I really dig this color combination. It is sedate and even professional. These notebooks can be used at work without garnering too much attention, unlike a neon Field Notes.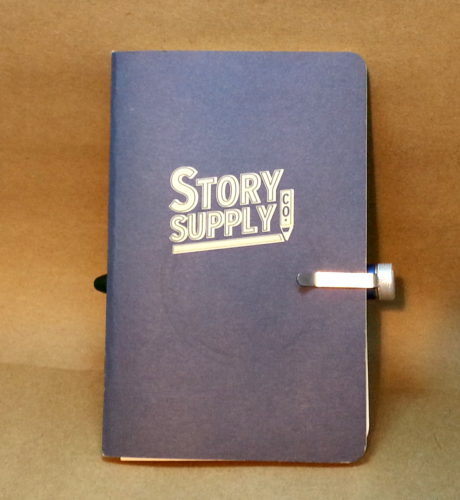 Inside the cream color is mirrored in the shade of the pages. The page is warm with pale blue gray lines (in both the lined and grids). I adore how the pale lines melt into the background when I use a dark pencil or ink color. I forget their presence. So very nice. The paper is smooth and really nice with both pencil and pens. Softer pencils tend to smudge a bit, but rollerball and fountain pens do really well. I also found that felt tip pens, like Staedtler Triplus fineliners did really well on this smooth paper. Also, only the wet fountain pens soaked through the page and made a mess. I was able to use a lot of my fine and extra fine fountain pens. While Field Notes tend to require rollerball or pencils, SSC paper lets me use whatever writing tool I want, options are good.
What more can I say about these notebooks? The paper is great. The covers are sedate and thick. In addition to being a great notebook the company gives back by donating writing utensils and notebooks to schools in need. What's not to like?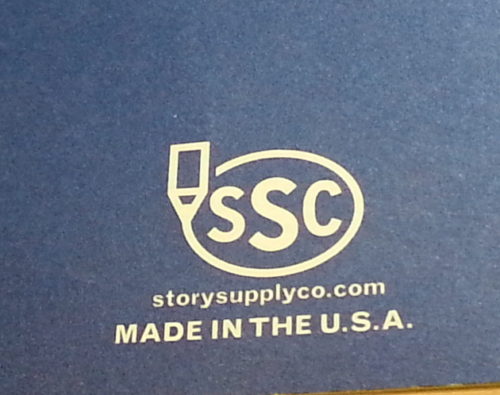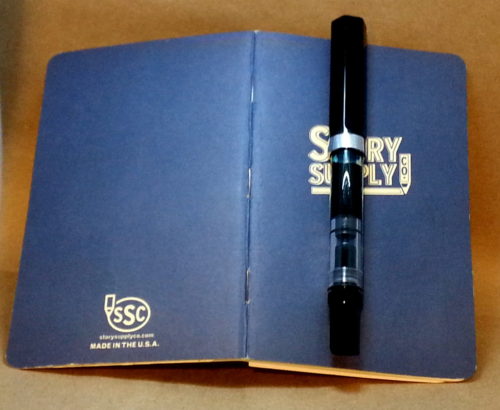 Oh, they also have a new series of covers drawn/designed by a guy who has drawn Deadpool. You can support education and get a cover that is a little less sedate but wrapped around a still awesome notebook. Great stuff. (The new covers will be on  a larger size notebook- 5.5×7.5)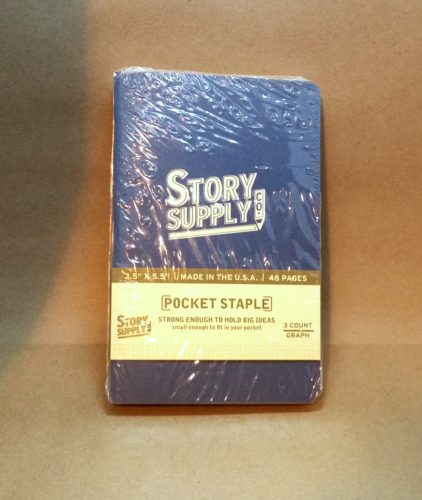 In full disclosure I had requested and received a pencil and a single gridded notebook for review. You can read the pencil review here, and I did not review the notebook at that time. Not because I didn't like it, but because I was busy with school. The kickstarter backer reward notebooks were purchased with my own money and I review these with an open mind.