It seems that bright colors and stripes are all the rage in pencil fashion these days. I've waxed philosophical about the neons in both Wopex and Ticonderoga in the past. This year Dixon has introduced striped Ticonderoga pencils in 5 colorways. Green, blue, yellow, orange, and magenta. Each pencil sports 2 shades of the color- one bright the other pastel. Each has an eraser to match the brighter color and that traditional green and yellow Ticonderoga ferrule. All that bright cheery goodness is wrapped around good old American cedar. These are all made in their pencil manufacturing facility in China, so don't be fooled that these are American made. That is the only thing that could make these better. The core inside is their soft HB which reminds me more  of a B than anything else.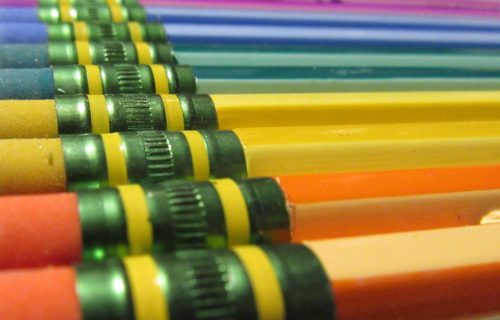 I dig these bright colorways so much. I am most taken by the green. It reminds me of school bus seats in buses dating back to the 60s, like the one I rode back in 1980 when I first went to school. They remind me of the old supplies in green cardboard boxes my teachers had in their pale tan cabinets. The dark green color is also nearly the same shade as the enameled tin boxes that tools would be in before molded plastic became popular and cheaper. The outside of the tin would be a mottled green color and inside the tool would be set into a thin plastic molded shelf. I used one of those metal tool boxes as my pencil and pen case in high school. It also served to protect my fancy graphing calculator from harm.*
The green striped pencils evoke memories of early childhood and school for me. The yellow reminds me of the school bus- the dark shade is just right for the rickety school bus I first rode.
The  final three colors, the magenta, blue and orange remind me of summers as a child. That blue perfectly encompasses the color of the sky reflected off the oceans and lakes I swam in. The orange is the sand and sun beating down on us. The magenta is the color our skin turned after a few days in the sun.


These bright cheerful pencils are awesome and nostalgic.

This post was inspired by Brandon's over here.


*When I sign up for physics a graphing calculator was a requirement. In 1992 they were hundreds of dollars. I happened to be at a salvage store and stumbled upon a Sony version of a graphing calculator. I got it for around $30 which was a steal. My teacher was OVERLY impressed with it and jaw dropped when I told him I found it at Marden's for so little. (Mardens at the time was pretty much a shithole- you walked in and it was messy, usually kinda dirty and very disorganized. You found way more deals back then than you do today.