Art Heals by Shaun McNiff was my "filler quote" book in graduate school. It is a collection of his writings on art therapy. If you are able to filter through the copious amounts of woo woo and heaps of frou frou* there is a great deal of good stuff within the covers. I chose chapter 7, Aesthetic Meditation for my focus this week. It hinges nicely with a new class I'm developing that uses what McNiff describes as "creating a dialog with the image."** In the McNiff (and other expressive art therapists who use the studio art approach) approach one looks at their own art, and talks to it, creating a conversation with the image, and allowing themselves to create a story about around and from the image.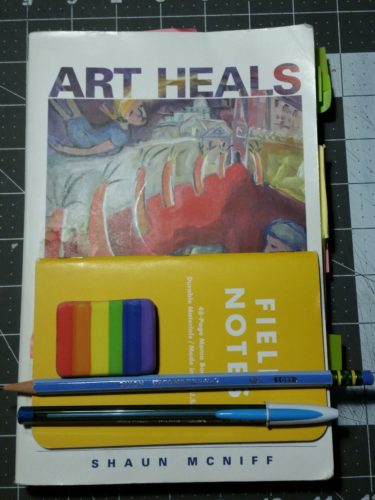 What is aesthetic mediation? In short it is a way of looking at art and more expansively at the world around you in a mindful meditative manner. When engaged in this sort of viewing you are engaging all of your senses and making yourself almost hyper aware of what you are looking at. In addition to really deeply looking you also make yourself aware of all of your senses and focus on what you notice. You are immersed in the object.
This is not an easy state to be in, McNiff likens it to sitting meditation, which is a practice one develops over time. One simply doesn't sit down and begins meditation for an hour*** they work their way up to it.
Further what McNiff explains in this chapter is that we can use our finished images to contemplate and relax ourselves. How many of us have opened up the pages of our art journals, caressed the lumpy bumpy pages and remembered that sense of release as we created the page? I know I have, over and over and over again. Not only are my art journals a place to release pent up feelings but they are also a place to return and contemplate my day and relax myself.

While many of McNIff's articles are written with the therapist in mind, many in this book are not. If you are an art therapy student this is a great book for filling out those papers where you need a few extra lines to get  you up to the page requirement. He's got a quote or thought for every art therapy need.
Next week I'm going to reflect on the book "Wabi-Sabi" by Leonard Koren.
*Also cultural appropriation. But let us not go there. McNiff is not without his critics both inside and outside the department which he founded. On a personal level, I rather enjoyed class with McNIff and having lengthy conversations with him. That said, he does have a bit of the air of guru about him, I do not know if that is because he walks about playing bongos and kalimba music during class, or if it is his use of Shamanistic philosophy…
** He stated this repeatedly throughout the class I took with him at Lesley University in 2015. I'm sure I can find a substantial citation, but this is not APA style, and should you want to look at my class notes I'll gladly provide them. He touches upon the dialog with the art piece in this very chapter (pg 56) McNiff, S. (2004). Art heals: How creativity cures the soul. Boston: Shambhala.
*** Or hell even a half hour, people need to work up to meditating for lengthy periods of time. Start with 3 to 5 minutes, then gradually work up to longer periods of time.
All links in this are Amazon Affiliate links. I get a small amount of change if you purchase through the links and it doesn't affect your price at all. If you don't mind making the purchase via my links, I appreciate it very much and it helps to keep the site running.
McNiff, S. (2004). Art heals: How creativity cures the soul. Boston: Shambhala.