I'm going to start out by saying this is one of my favorite art journaling books. I enjoy the JFJ philosophy on visual journaling and their approach to art. I have a few criticisms of the book but we'll save them for the end of the post.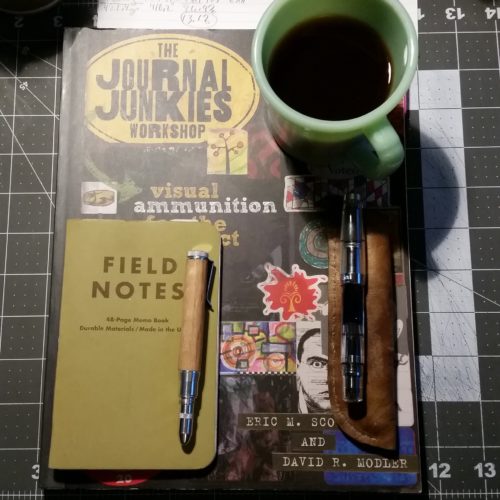 For today's study I'm looking in depth at Scott and Modler's page on "Objectives." It's page 17 of the book and it details the JFJ philosophy of what a visual journal (VJ) is and can be. At it's core the philosophy is that the VJ is an everything book. It transcends words and combines words and visual expression into one journal. It's a place to reflect and explore emotions, ideas, and thoughts. It's a record of everyday life as well as the inner life of the person who keeps it. It's this everything goes philosophy that I so very much enjoy in this book about VJ.
As you get further into the book the everything goes attitude is reflected via their suggestions of simple materials that don't cost a lot and the suggestion to use things you have rather than amassing a trove of fancy overpriced art supplies. They also don't suggest that pages must be pretty or finished- rather the whole book suggests that the VJ is done "your way." They encourage the reader to create their own methods and style rather than mimicking or copying theirs.
My issues with the book are minor. First is the use of the term "junkies," language matters and using a term that is used as a general disparagement for people struggling with addiction is a little… off putting. Obviously, this is a minor objection as I still love the book and highly recommend it. The last objection is the references to weapons and ammunition. Again, minor, and these are occasional and though they make sense as they are used, I tend to like to have my art, stationery, and weaponry stuff kept separated.
Anyway, this book is a must have for anyone interested in art/visual journaling and developing their own style.
Yes, many links in this post are Amazon Affiliate links. I get a few pieces of coin should you chose to purchase the book through these links. No, it is not a lot of coin. Every penny helps to buy more books, art supplies, and yes helps to keep this blog up and running.