Back to School Sales are irresistible. I end up picking up stuff I really have no interest or need for the Yoobi Document Organizer (YDO) is one of those things. The YDO is reminiscent of two very different products, but not exactly like either. The first is a favorite of mine, the Lihit Labs Bag-in-Bag organizers. The YDO is close in size to the large. The other item it reminds me of, and you can thank Leadfast for the comparison, is the Nock Co Lanier. It's not exactly like that either. I'll get to those comparisons later.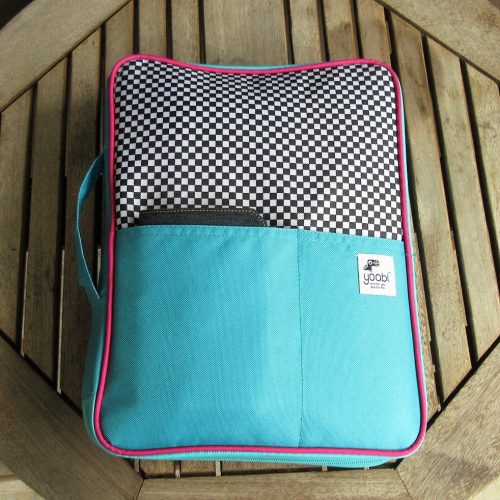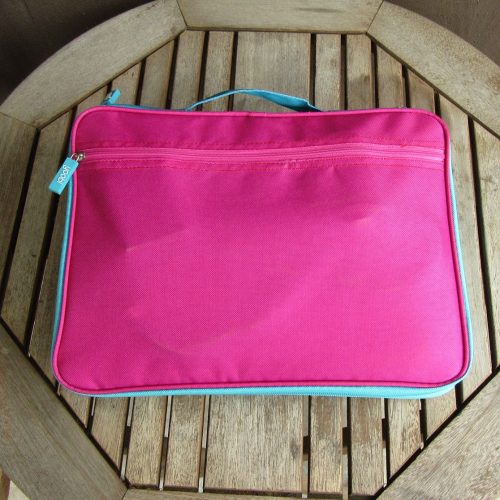 The YDO is available in 4 colorways- Goin' Bananas, Aqua and Checks, Aqua and Black Dotty, and Yoobi Awesome. Aqua and checks is a bright shade of blue, while Aqua and Black Dotty is more of a seafoam green. Not at all aqua. There are also 2 different price points, which is weird. The Goin' Bananas and Aqua and Checks are both $10 while the other two are $13. Why the price difference? The two higher priced YDO have velcro flaps on an inside pocket.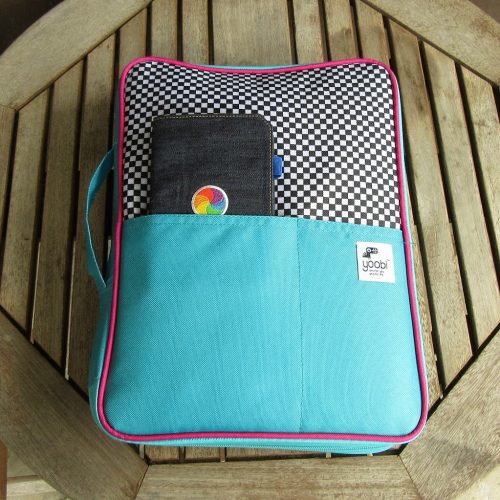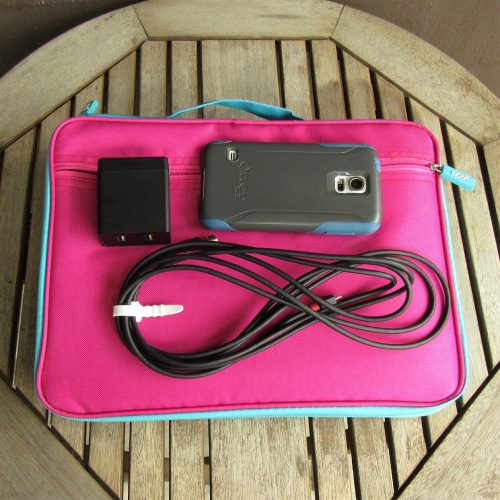 I picked up the Aqua and Check because it was the only version my local Target had. If I'd had my choice I'd have gotten Goin' Bananas. The quality of the stitching is acceptable, for a $10 item. If I had spent any more on this I'd take it back. There were a few loose threads here and there, that didn't have an effect on the sturdiness of the item, so I hit them with a lighter and sealed them off. The zippers seem fairly sturdy but not as sturdy as say, a Tom Bihn bag. But then this isn't intended to hold a backpack's worth of stuff. Rather the YDO is intended to hold a few items in a well organized manner.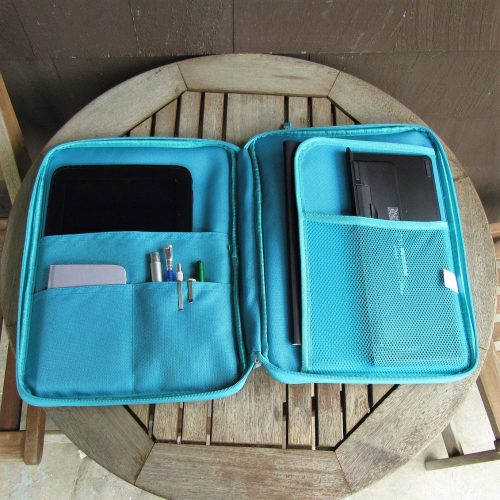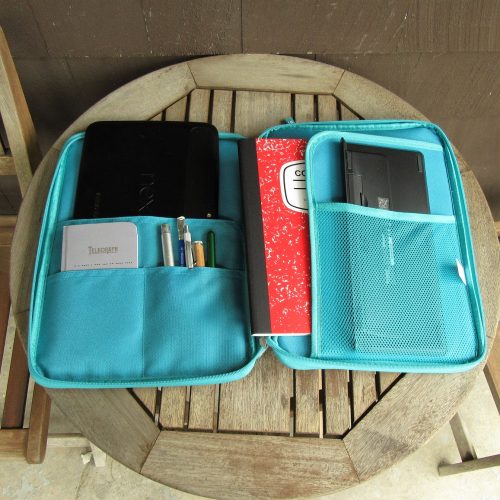 The organization inside is simple. One large pocket, two smaller pockets, a mesh pocket, and a flap. The zipper unzips fully around three of the four sides. The remaining side holds a handle.On the outside there is a zipper pocket and two smaller pockets. The whole thing is just under 2 inches thick, 13.5 inches high, and 10 inches wide. The polyester canvas slides in and out of my backpack and bags with ease. The handle is far from comfortable as it's just a thin strap made of canvas. It's also rather small. I can't imagine carting the YDO around for more than a few minutes fully loaded.
Speaking of fully loaded, this thing can hold a lot more stuff than I first thought. Loaded to comfortable non-bulging it holds the following: tablet w/case, BT keyboard, composition notebook, pocket notebook, handful of pens and pencils, earbuds, cord and one small charger. If I pack it to bulging I can add to the above a back up power source, another cable, my pocket notebook in case, phone, and my BT speaker. Either way, this is a decent amount of stuff if you want to use it to organize a specific set of tools for a specific purpose- like heading to the cafe to peck out your next novel without carting around a large backpack or messenger bag. If say I was heading into work and I knew I had a block of time where I wasn't going to work but I could head to the cafe this would be a fast way to ditch my backpack and take only my tablet and keyboard with me. Also, I could see myself taking this with me on the weekend to the cafe. Or I could slip this into my backpack and have all my stuff ready to go in seconds.
The big drawback to this is the lack of shoulder strap. I should weigh how much stuff I can cram into it, but at the end it's heavy and if I were to cart it around by the strap, my fingers will go numb before I get to the cafe. Unlike the Lanier*, I don't mind adding loops for a shoulder strap to this because I paid $10. If I look at this as a Bag-in-Bag contender the strap doesn't matter.
I guess if you wanted to back the Lanier and you want something similar at a budget price, this is a great alternative. Just don't expect it to wear and last like a Nock product would. If you want a Bag-in-Bag at a budget price, this will do the job really well. Yeah some of the patterns are silly- but I kinda love the silliness of the bananas. Yoobi makes some silly products, but they are aimed at teens and fun loving adults.
Overall I like this product. It functions for my uses and I'll be adding a shoulder strap to the outside so I can lug it to the cafe without carting a full bag of junk. It is really interesting to pare down my carry and look at what I need and what I don't need. But that is a whole other post.



*just an FYI, I do not have a Lanier, the lack of shoulder strap or ability to add one made it a no go for me. I often have to walk a block or so to my workplace after I park, carting my tablet and sundry goods without a strap is a no go.
Most links are affiliate links and I get a small amount of pennies should you chose to make a purchase following my links. It's not a lot but it does help me to fund the hosting for the blog and buy new things to test and review. I bought the goods in this review with my own cash money and no one influenced my review.